Three factors for Russia's defeat in the war, Ukrainian Ministry of Foreign Affairs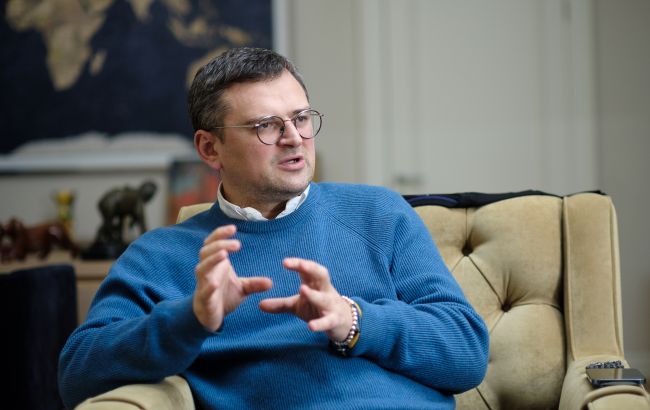 Photo: Minister of Foreign Affairs Dmytro Kuleba (RBC Ukraine)
During his speech at the Council of Foreign Ministers meeting of EU member states, Minister of Foreign Affairs Dmytro Kuleba outlined three conditions for Russia's defeat. He emphasized that the recent coup in Russia vividly demonstrated the weakness of dictator Vladimir Putin's regime.
Now, for Ukraine to achieve victory in the war, it is necessary to:
Provide Ukraine with the necessary military assistance.
Increase sanctions pressure on the aggressor country.
Demonstrate the international community's determination to ensure Russia's defeat in its war against Ukraine and the establishment of a democratic world.
"Two events have shown that Ukraine will win. In Berdiansk, Ukrainian teenagers Tigran and Mykita sacrificed their lives to resist the occupation. Tanks advanced towards Moscow from Russia with little resistance. At the meeting of the Council of Foreign Ministers, I called on the EU to expedite Russia's defeat by enhancing support for Ukraine," Kuleba stated.
The minister noted that what we witnessed on Saturday evening was not the end but just an intermission in the ongoing destruction of the Putinist vertical as Russia weakens daily.
According to him, there are critically important things at this moment:
Provide Ukraine with all necessary weaponry, primarily artillery systems, MLRS, and ammunition.
Strengthen international sanctions in nuclear energy, digital technologies, diamond sales, maritime logistics, and finance.
Prevent Russia from launching missile strikes on Ukrainian cities, primarily through a global ban on supplying dual-use goods to Russian missile and drone industries.
The minister called explicitly for joint efforts with the United States to expedite the training of Ukrainian pilots and technicians and transfer Western-made aircraft to Ukraine.
"Together, all of these steps will enable the liberation of all Ukrainian territories," he added.
He also admitted the EU's decision to increase the budget of the European Peace Facility to 3.5 billion euros, which will ensure stable supplies of military equipment to Ukraine and develop the Ukrainian-European defense industry alliance.

Coup in Russia
Over the weekend, the leader of the Wagner PMC, Yevgeny Prigozhin, announced that Russian forces had struck at the rear of his mercenaries and began a march on Moscow.
The mercenaries crossed the Russian border and occupied military facilities in Rostov and Voronezh.
However, they did not reach Moscow, stopping approximately 200 km away. On the evening of June 24, Prigozhin unexpectedly decided to end his rebellion and march on Moscow after negotiations with Belarusian leader Alexander Lukashenko.
ISW analysts believe that Russia's rebellion has exposed the Kremlin's weakness and could inflict significant damage on its efforts in the war against Ukraine.