Tanks, guns and air defense systems: Azerbaijan shows military equipment confiscated in Karabakh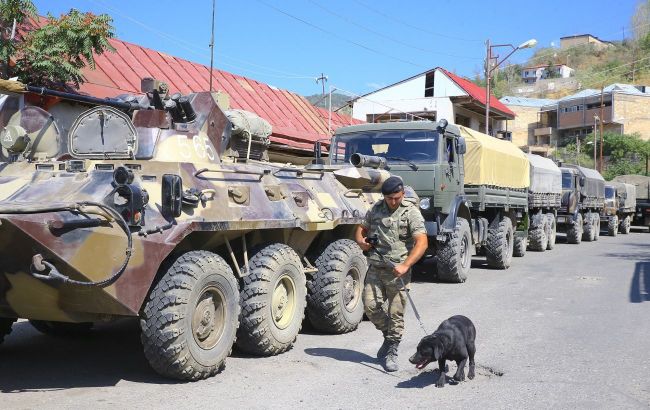 Azerbaijan shows military equipment seized in Karabakh (Photo: Getty Images)
The Ministry of Defense of Azerbaijan has presented images of confiscated military equipment and published a list of seized weapons and ammunition following "local anti-terrorist operations" in the Nagorno-Karabakh region, according to the Azerbaijani Ministry of Defense.
According to the country's defense authorities, efforts to disarm illegal armed formations in the Karabakh region continue.
"We present a list of combat vehicles, weapons, and ammunition confiscated as of September 23, after the completion of local anti-terrorist operations in the Karabakh region of Azerbaijan," the statement reads.
The list includes various types of heavy military equipment, artillery, air defense systems, firearms, anti-tank missile complexes, grenade launchers, mines, explosives, and ammunition, among other items. In total, the inventory comprises 20 different types of weaponry:
Tanks: 4 units
Infantry Fighting Vehicles (IFVs): 1 unit
MT-LB ZG-20/3 "Zastava": 3 units
Artillery Pieces: 2 units
Howitzers: 12 units
Mortars: 12 units
Mines: 468 units
Mine Charges: 956 units
Mortar Shells: 441 units
Grenade Launchers: 22 units
Grenade Launcher Rounds: 46 units
Small Arms: 313 units
Ammunition: 66,242 rounds
Rockets: 50 units
Explosives: 300 units
Hand Grenades: 62 units
Anti-Tank Guided Missile Systems (ATGMs): 3 units
Air Defense Systems: 28 units
Transport-Loading Vehicles (based on ZIL): 1 unit
Tor-M2 Air Defense System (mounted on KAMAZ chassis): 1 unit
Azerbaijan's Operation in Nagorno-Karabakh
On September 19, Azerbaijan announced the commencement of "local anti-terrorist operations" in Nagorno-Karabakh. Before this, Baku had accused Armenia of "organizing a terrorist act and causing military casualties."
Meanwhile, in the Karabakh region, it was reported that Russian "peacekeepers" had withdrawn following the launch of Azerbaijan's operation and Armenian Prime Minister Nikol Pashinyan stated that Armenia was not involved in military actions.
The next day, President of Azerbaijan Ilham Aliyev declared the restoration of the country's sovereignty and achieving the stated objectives in Nagorno-Karabakh.
More information on the military actions and Karabakh situation - in the RBC-Ukraine article, titled "Whose Karabakh? How a 30-year Azerbaijan-Armenia conflict 'ended' in a day".