Strikes on militant bases and Iran's influence on Hamas attack: Israel's main overnight events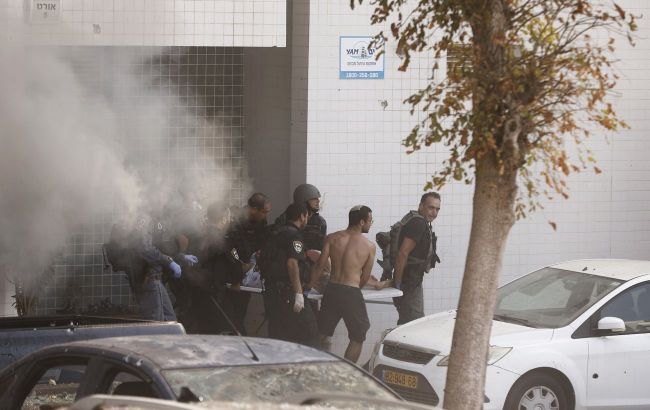 Israel launched a series of strikes on militants' infrastructure (Getty Images)
Israeli aviation carried out a series of precise strikes on the military infrastructure of Hamas militants last night. In response, terrorists fired hundreds of missiles into the central and southern regions of the country.
Below are last night's main events of the Hamas militants' invasion of Israel.
Sources used in the preparation of this material: CNN, Times of Israel, Telegram of the Israeli Defense Forces, Wall Street Journal.
Military operations
Israeli military conducted a series of airstrikes overnight on military infrastructure targets in the Gaza Strip. These airstrikes specifically targeted command centers and militants' camps.
Hamas militants launched rocket attacks on the city of Ashkelon twice during the night, resulting in a child being injured when a residential building was hit. The militants claimed to have fired over 100 rockets at Ashkelon overnight.
According to several sources, during the clashes on October 7th and 8th, Hamas militants captured over 100 individuals, including military personnel. Additionally, the leader of the Islamic Jihad, Ziad al-Nahala, previously stated that his group is holding over 30 Israelis abducted from the Gaza Strip.
International military support for Israel
In response to the militant attack on Israel, the United States has dispatched its aircraft carrier group to the eastern Mediterranean. It is reported that these ships will arrive off the coast of Israel in a few days.
Furthermore, according to diplomatic sources, the United States plans to deploy approximately 20 fighter jets to the Middle East as part of a strategy to strengthen American forces in the region.
Israel has also requested precision-guided bombs and additional anti-aircraft defense systems from the United States in light of the Hamas incursion into the country. These are considered critical assets for striking at militants and defending against their rocket attacks.
Iran's influence on Hamas' invasion of Israel
It has also come to light that representatives of Iranian intelligence agencies assisted Hamas militants in planning the attack on Israel and gave their approval for it during a meeting in Beirut at the beginning of October.
According to multiple sources, officers from the Iranian Islamic Revolutionary Guard Corps (IRGC) worked with Hamas since August on devising a plan for a series of air, ground, and maritime incursions.
To ensure the success of this operation, Iran temporarily set aside other regional conflicts, including the standoff with Saudi Arabia in Yemen, to redirect resources from the IRGC for the coordination, financing, and arming of Hamas and Hezbollah.
Key events from last night related to the Hamas attack on Israel are detailed in the RBC-Ukraine article.