Сost of living in Germany in 2023: transportation, housing and food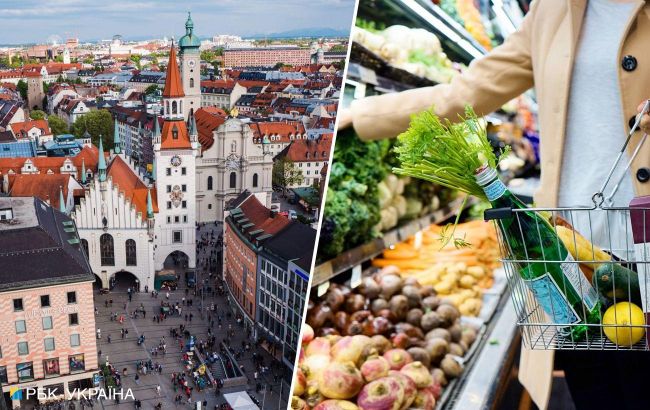 How much does life in Germany cost? (RBC-Ukraine collage)
Prices have been on the rise all across Europe lately, and Germany is no exception. The cost of energy and goods has seen the most significant increase. However, even in these challenging times, Germany remains a relatively affordable country to live in, especially when compared to some other EU nations.
The cost of living can vary from region to region and depends on factors such as family size and individual needs. We gathered all the information on the basic expenses one can expect in Germany.
Housing rent stands out as one of the major costs.
According to data from Numbeo, average rental prices across the country can be as follows:
Munich: ranging from 1,023 euros in remote areas to 1,366 euros in the city center.
Berlin: ranging from 907 to 1,331 euros.
Stuttgart: ranging from 787 to 1,278 euros.
Frankfurt: ranging from 878 to 1,143 euros.
Hamburg: ranging from 803 to 1,056 euros.
Cologne: ranging from 678 to 906 euros.
How much is deducted from your salary for health insurance?
Health insurance and social contributions are mandatory for employees in Germany and are automatically deducted from your salary, according to Welcome-hub-germany.com.
Health insurance and social security take up a significant portion of employees' salaries (approximately 20%):
Health insurance (Krankenversicherung) – 7.3% of your salary.
Pension insurance (Rentenversicherung) – 9.35% of your salary.
Long-term care insurance (Pflegeversicherung) – 1.525% of your salary.
Unemployment insurance (Arbeitslosenversicherung) – 1.2% of your salary.
In return for these contributions, you receive comprehensive social services. In case of illness, you can rely on medical assistance, and in the event of job loss, you can expect unemployment benefits.
If you are self-employed or a freelancer, you only need to arrange for health insurance (Krankenversicherung). If you are around 30 years old, do not have severe chronic illnesses, and work independently, a health insurance policy in Germany will cost you approximately 400 euros per month. The same policy for a 60-year-old self-employed individual is likely to cost around 800 euros per month.
Germany also has an income tax. The more you earn, the higher the tax you pay. In general, around one-third of your salary goes towards various social contributions.
How much does transportation cost in Germany?
Germany is known for its high-quality transportation system, with an extensive network of railways, buses, and trams. Major cities also have metro systems.
Photo: Germany is known for its extensive and convenient transportation system (unsplash.com)
Public transportation in Germany is generally quite affordable. According to data from Numbeo, the average cost of a single ticket for local transport is currently 2.80 euros, while a monthly pass that allows unlimited travel on local transport will cost you an average of only 70 euros.
On the other hand, taxis in Germany, like in most EU countries, can be expensive. Prices start at 3.50 euros for the initial fare, and you will pay around 2 euros per kilometer. Taxis always have meters, allowing you to track the fare during the journey. Be prepared that even for a short trip, you may be charged 50-80 euros.
By the way, this summer in Germany, there is a train pass available that allows you to travel practically all over the country for 49 euros per month.
A good option for getting around cities, especially smaller ones, is cycling. Most cities and towns are well designed for cyclists and have all the necessary infrastructure to make cycling comfortable. Second-hand bicycles are sold at a cheap price on classified ad websites and can cost anywhere from 50 to 250 euros.
How much do groceries cost in supermarkets?
Compared to France and some other countries, the prices of groceries in Germany are not too high. The country produces many of its own products, from milk to potatoes and pork.
According to Numbeo, average supermarket prices in the country in 2023 are approximately as follows:
1 liter of milk: 1.01 euros.
1 kg of potatoes: 1.59 euros.
A loaf of bread: 1.73 euros.
1 kg of rice: 2.02 euros.
A dozen eggs: 2.66 euros.
1 kg of apples: 2.49 euros.
1 kg of bananas: 1.65 euros.
1 kg of chicken fillet: 7.83 euros.
1 kg of locally produced cheese: 11.72 euros.
0.5 liters of local beer: just 0.65 euros!
Keep in mind that these are average prices across the country, and they may vary in different stores, supermarkets, or markets. Products might be more expensive in city centers and cheaper on the outskirts.
On average, a single person, not buying various delicacies or exotic products, spends around 200-300 euros per month on groceries in Germany.
How much does dining out cost?
Although grocery prices in supermarkets are low in Germany, it's a common local practice to frequently go out with friends for lunches or dinners at various establishments, or at least for coffee or a beer. Eating out expenses can be a significant part of your budget, depending on your preferences and frequency.
Photo: Germany has a variety of food options for everyone (unsplash.com)
Here are some examples of average prices:
12 euros for a main course and a drink in a budget-friendly eatery.
25 euros for a 3-course meal in a mid-range restaurant.
4 euros for 0.5 liters of German beer.
2.50 euros for a non-alcoholic drink.
10 euros for a cocktail.
2.75 euros for a cappuccino.
A popular dining format in Germany is all-you-can-eat fixed-price establishments. For example, in some Berlin eateries, by paying 10-15 euros during the day, you can eat as much as you want. However, beverages are usually charged separately.
Average salaries in major cities
On average, monthly expenses for various purposes in Germany can range from 1200 to 3000 euros per month. Let's see how this relates to the average salaries in the country.
Average salaries in major cities in Germany (as of 2023):
Berlin – 3,168 euros per month.
Munich – 3,780 euros per month.
Frankfurt – 3,773 euros per month.
Hamburg – 3,475 euros per month.
Cologne – 3,501 euros per month.
Stuttgart – 3,754 euros per month.
For more detailed information about earning potentials in different regions and cities in Germany, visit the government website gehalt.de.

Whether such salaries are sufficient for a comfortable living in Germany often depends on individual circumstances and personal priorities.
For example, if you live in a one-bedroom apartment on the outskirts of Hamburg and do not have significant expenses on a car or university education for children, it's possible to pay all your contributions and even save some extra money.
However, if you live in an apartment in the center of Munich, own a car, frequently eat out, and have children, then an average salary of 3,780 euros is unlikely to cover all your expenses.
How to save money while living in Germany?
Choose cheaper accommodation: consider living in less central areas where apartments are significantly cheaper (suburban apartments often cost half the price of apartments downtown). Public transportation connections usually work really well, allowing you to easily commute to work. Another option is to share an apartment with roommates to split the costs.
Use public transportation or a bicycle instead of a car: public transportation in Germany is cheaper than owning a car, especially if you buy monthly or yearly passes. For instance, an unlimited monthly pass in Berlin can cost 63.42 euros per month. A yearly pass would be even cheaper.
Shop at discount supermarkets: by shopping at places like Netto, Lidl, or Aldi, you can save a few euros on each item. Supermarkets like EDEKA, Kaufland, or Alnatura are more expensive. It's also a good idea to check the lower shelves in German supermarkets, as cheaper items are usually placed there.
Photo: You can go to cheaper store chains or markets (unsplash.com)
Save water and electricity: many have heard that in Germany, people are accustomed to not wasting water and electricity unnecessarily. This approach indeed helps avoid unnecessary expenses. Therefore, it's worth turning off unused appliances. Interestingly, in Germany, you can change your electricity supplier every year and receive discounts and bonuses as a new customer. This could be another way to save about 150 euros per year.
Overall, the total cost of living in Germany can range from 1200 to 3000 euros per month per person. Much depends on your needs and how much money you earn.