Shahed drones, Kh-22, Kinzhal missiles: Russia launches another night attack on Ukraine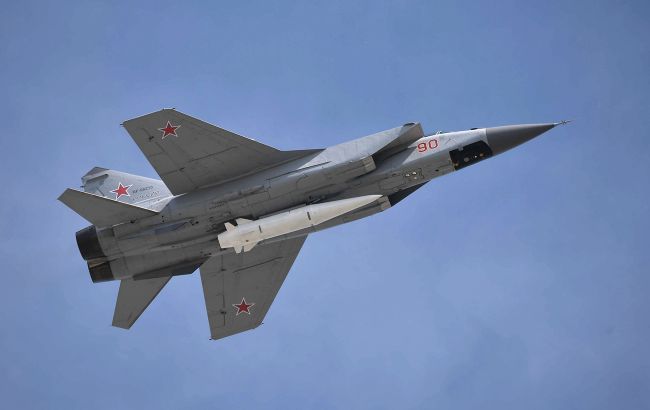 Kinzhal missiles (wikipedia.org)
Russia used Shahed drones as well as Kh-22 and Kinzhal missiles during tonight's attack on Ukraine, the Air Force of the Armed Forces of Ukraine reports.
According to military sources, the attack targeted critical infrastructure objects in Ukraine.
"On the night of June 22, Russian occupiers attacked Ukraine from the air using Kh-22 and Kh-47 Kinzhal missiles, as well as strike drones Shahed-136/131," the statement reads.
According to the air force, Russians launched three Kh-22 cruise missiles from Tu-22M3 bombers, originating from the Azov Sea area, and three aeroballistic Kh-47 Kinzhal missiles from MiG-31K aircraft. Additionally, four Iranian Shahed drones were detected, of which three were destroyed by the anti-aircraft defense.
"Fortunately, the enemy's missiles did not reach their targets in the Dnipropetrovsk region. However, the occupiers continue their terror against the Ukrainian people by attacking critical infrastructure objects in Ukraine," the statement says.
Night attack on Ukraine
On the night of June 22, Russia launched another strike against Ukraine, employing missiles and Shahed drones. The explosions were heard in Kharkiv, Odesa, Kryvyi Rih, and Kremenchuk in the Poltava region.
The Russians targeted the Kryvyi Rih district with missiles. Ten private houses, an outbuilding, garages, and vehicles were damaged there. The gas pipeline, water pipeline, and power lines were also affected. It was reported that the enemy carried out the attack using X-22 missiles.
Ukraine's air forces could destroy three Shahed drones in the Odesa region, but one drone hit a storage facility, causing a fire outburst.