Scholz, Macron, Duda to discuss security guarantees for Ukraine in Paris - Politico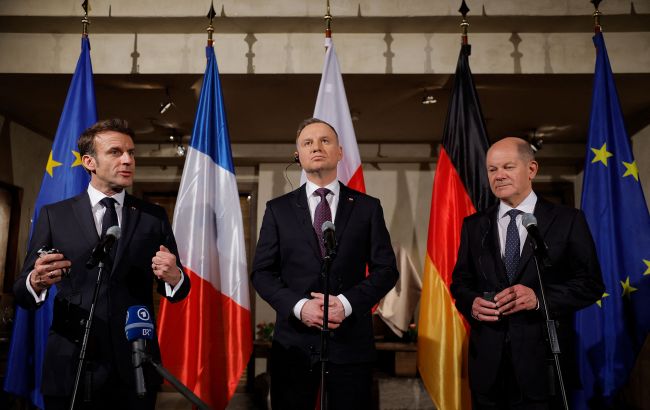 French, German and Polish leaders will discuss guarantees for Ukraine (GettyImages)
Germany's Chancellor Olaf Scholz and Poland's President Andrzej Duda will travel to Paris on June 12 for talks with French President Emmanuel Macron. It is expected that the dinner meeting will be devoted to Ukraine's push for NATO membership and security guarantees from allies ahead of the NATO summit in July, as Politico reports.
Last week Macron called for providing Ukraine with "strong, concrete and tangible" security guarantees, stating that Ukraine should be offered a "path towards NATO membership."
However, Scholz made a more cautious statement, suggesting that the focus should not be on membership, but on "how we as individuals can support Ukraine".
Poland has repeatedly called for providing Ukraine with reliable security guarantees. On Tuesday, Duda met with several NATO member leaders in Eastern Europe to discuss the war and Ukraine's request to join the Alliance.
The media wrote that there is a widespread understanding today that Ukraine will not be able to join the Alliance while it is still at war with Russia. Meanwhile, NATO members differ on how they should respond to Ukraine's current aspirations for membership.
An anonymous French diplomat believes that NATO members need to send a strong signal to Russia as Ukraine moves to counterattack.
"If we don't find a solution that satisfies everyone, the risk is that we won't reach… a unified statement and that would obviously be the greatest gift we could give to Russia," the diplomat said.
Security guarantees for Ukraine
Ukraine's President Volodymyr Zelenskyy, ahead of the July NATO summit, stated that Ukraine needs security guarantees from the West, which will be "written on paper".
"If we are not in NATO yet, we need this on paper. Why? So that in half a year or a year, no one of the leaders will start saying that his society is getting tired and the economy is getting tired, so they cannot give us the appropriate amount (of help)," he said.
NATO Secretary General Jens Stoltenberg, following a meeting with Foreign Ministers in Oslo on June 1, said that NATO countries have not yet determined the security guarantees for Ukraine. According to him, the Alliance is focused on helping to end the Russia-Ukraine war. He said that Ukraine's security should be guaranteed after the end of the war. However, NATO allies have not yet agreed on the details of this issue.