Saudi Arabia suspends talks on Israel relations normalization, turns to Iran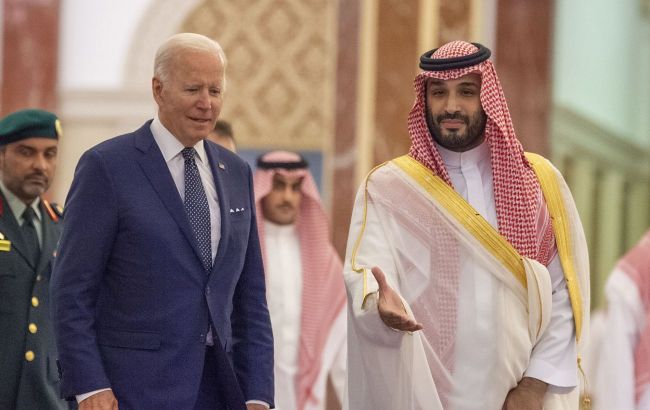 Joe Biden and Mohammed bin Salman (Photo: Getty Images)
Saudi Arabia has suspended talks with Israel on normalizing relations. Riyadh is engaging with Iran, according to Reuters and Bloomberg.
As part of his tour of the Middle East, U.S. Secretary of State Antony Blinken visited Saudi Arabia. Media reports suggest that Saudi Arabia has communicated its position to the United States, which initiated the normalization of relations with Israel.
Bloomberg sources state that Riyadh described this move as a pause rather than the end of diplomatic negotiations.
Moreover, the conflict between HAMAS and Israel has also pushed Saudi Arabia toward engagement with Iran. Crown Prince of Saudi Arabia, Mohammed bin Salman, had his first phone conversation with the President of Iran.
The normalization agreement envisages Saudi Arabia recognizing Israel and establishing diplomatic and trade relations. In return, Saudi Arabia seeks concessions from Israel in favor of the Palestinians, and the U.S. is expected to provide security guarantees and assistance in its nuclear program.
Media outlets note that the normalization agreement between Saudi Arabia and Israel is the most significant peace deal in the Middle East in recent decades.
HAMAS attack on Israel
On Saturday, October 7, HAMAS militants from the Gaza Strip infiltrated southern Israel, preceded by numerous rocket attacks on Israeli territory.
Israel declared a "state of war" and promised retaliation against HAMAS terrorists. The Israeli Defense Forces called on Gaza Strip residents to evacuate to the south, giving them 24 hours. The United Nations criticized Israel's warnings, with media speculating that Israel's alert may be linked to plans for a ground operation.
For more details on the situation in Israel and the potential impact of Middle Eastern countries on the war, read RBC-Ukraine's article.