Saakashvili's 'sample theft': Georgia summons the Polish ambassador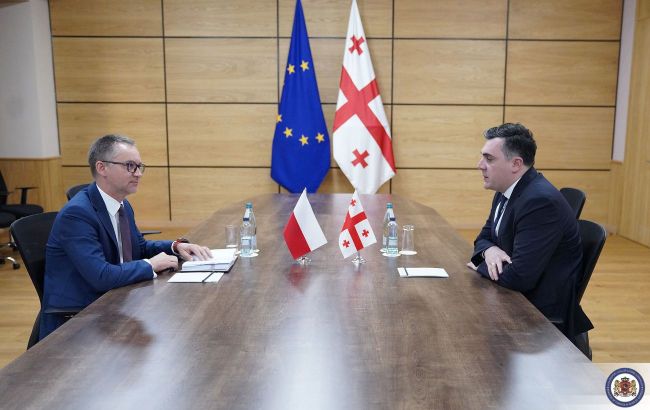 Acting Polish Ambassador to Georgia Mariusz Piotrzak and Georgian Foreign Minister Ilia Darchiashvili (Photo: mfa.gov.ge)
The Ministry of Foreign Affairs of Georgia has decided to summon the Polish ambassador due to accusations of "sample theft" involving former President Mikheil Saakashvili, the Georgian MFA press service reported.
The statement mentioned that the acting Polish ambassador, Mariusz Pietrzak, has already met with the Georgian Minister of Foreign Affairs, Illia Darchiashvili.
"The Georgian side expressed concern over the incident involving the Polish medical professional who, in breach of the established procedure, smuggled the sample of the imprisoned M. Saakashvili out of the clinic, where he is detained," the statement said.
The Georgian ministry also noted that the behavior of one of the Polish doctors, who allegedly attempted to steal Saakashvili's analysis sample, "misunderstanding, concern and also brings the entire process into disrepute."
Background
Recalling on July 12, Georgia decided to allow Polish doctors access to Saakashvili, a piece of information confirmed by the Prime Minister of Poland, Mateusz Morawiecki.
A few days later, the Georgian authorities began stating that one of the Polish doctors attempted to carry Saakashvili's analysis samples in his shoes.
This happened against the backdrop of Saakashvili's deteriorating health condition. Recently, during a court hearing, he demonstrated how much weight he had lost, which provoked a sharp reaction from the President of Ukraine, Volodymyr Zelenskyy.