Russians returning to former positions after retreat due to Kakhovka dam explosion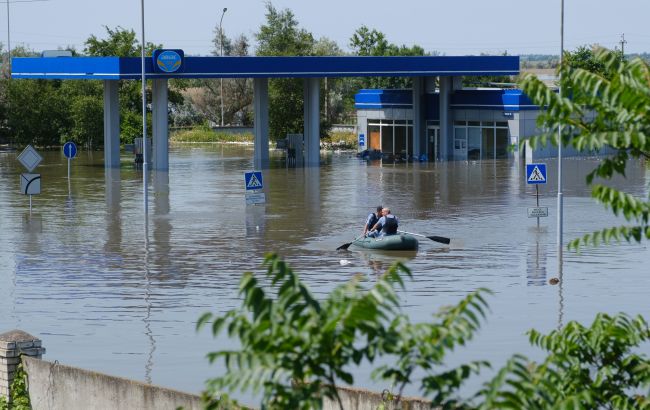 Occupants are returning to their former positions in the Kherson region after the flood receded (Photo: Vitalii Nosach/RBC-Ukraine)
According to Natalia Humeniuk, Head of the United Coordinating Press Center of Security and Defense Forces of the South of Ukraine, the occupants are gradually returning to the positions in the Kherson region they abandoned after the flood caused by the sabotage of the Kakhovka hydroelectric plant.
"After the water level rose, they were forced to retreat up to 15 kilometers in some areas and reduce the intensity of the fire. But gradually, they are returning to the same positions," she explained.
Furthermore, the enemy is attempting to increase the frequency of shelling.
"In the past 24 hours, we have recorded 75 shellings. This is a return to the mark that existed before they caused a technogenic disaster," she noted.
Situation on the Dnipro front
Speaking about the overall situation on the Dnipro front, Humeniuk stated that compared to Zaporizhzhia, the activity of the Defense Forces in the geographical advancement is slightly decreased, but the activity in the counter-battery combat is greatly increased.
"We continue to destroy the enemy's capabilities while he is redeploying after the floodwaters have receded. They have created a disaster that has significantly affected their positions," added Humeniuk.
Currently, the occupants are forced to update the maps of minefields they created as a defensive measure, which the flood has disrupted and dispersed in new geographical locations.
Sabotage of the Kakhovka Hydroelectric Station
Russian military forces sabotaged the dam of the Kakhovka Hydroelectric Station in the Kherson region on June 6. As a result, the Kherson region and some populated areas of the Mykolaiv region were flooded.
After the disaster, which resulted in 80 populated areas being flooded, Humeniuk reported that the occupants moved 5-15 kilometers away from the Dnipro. However, this did not prevent them from shelling Kherson even during the evacuation of the local population.