Russians pose a threat to ecological and radiation safety in Energodar, says mayor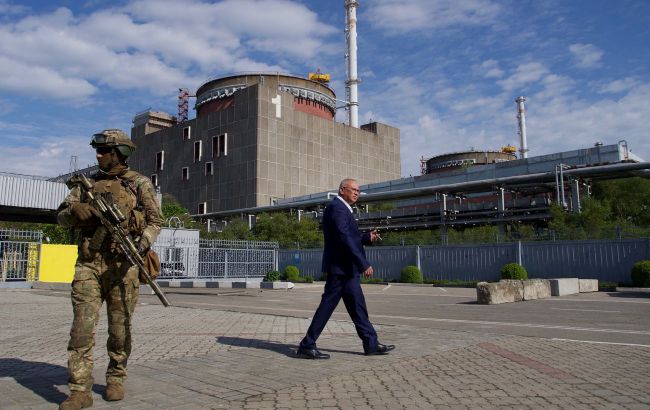 Russian occupying forces in Energodar pose a threat to ecological and radiation safety (Getty Images)
According to the Telegram message from Energodar Mayor Dmytro Orlov, Russian aggressors in the temporarily occupied city of Energodar in the Zaporizhzhia region are creating a threat to ecological and radiation safety.
He claims that residents of the city have been regularly observing significant smoke on the streets (especially in the first microdistrict) for the past month, caused by the dispersion of dust from the ash dumps of the Zaporizhia Thermal Power Plant.
Orlov explained that ash dumps are the places where ash and slag, formed during the combustion of solid fuels in the thermal power plant, are stored.
These waste materials have a high concentration of toxic substances and, when dried, form dust capable of spreading over significant distances. To safely maintain the ash dumps, it is necessary to regularly water the dust, as was done by the workers of the enterprise before the occupation.
"Today, we see that due to the incompetence of the occupants, regular shelling, and the lack of proper maintenance of the ash dumps, large clouds of dust are forming, spreading throughout the city with the wind," the mayor noted.
However, according to him, this situation is not only caused by weather conditions. Lately, the occupants have come up with a new pastime: whenever the wind intensifies, they organize car races directly on the ash dumps, thereby significantly increasing the dust uplift into the atmosphere.
In Orlov's opinion, by doing so, the aggressors plan to relocate their equipment or commit other crimes while hiding in thick clouds of dust, evading the vigilant eyes of the residents.
Situation at Zaporizhia Nuclear Power Plant
Ukrainian President Volodymyr Zelenskyy claimed that the Russians are preparing a terrorist attack at the Zaporizhzhia Nuclear Power Plant with the release of radioactive materials. The General Staff of the Armed Forces of Ukraine also stated that the occupiers have been planting additional explosives in the cooling pond basin.
Recently, the General Staff of the Ukrainian Armed Forces reported that Russian occupiers may have planted explosives on the roofs of several reactors. Meanwhile, the International Atomic Energy Agency (IAEA) stated that they have not found any explosives at the plant, but they were not allowed to inspect the entire territory of the nuclear power plant.