Russians deliberately blew up Kakhovka dam to stop Ukraine's counteroffensive - ISW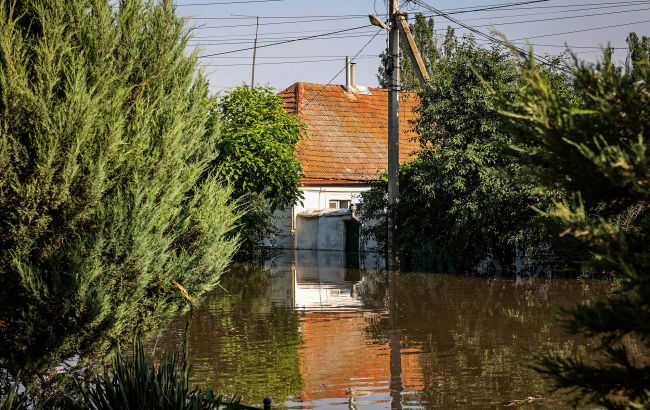 Flooded area in Kherson region (GettyImages)
Russian troops were interested in flooding the lower reaches of the Dnipro River by blowing up the Kakhovka Hydroelectric Power Plant dam, despite the damage to their own prepared defensive positions in southern Ukraine. They were trying to make crucial obstacles to Ukraine's counterattack, as ISW reports.
According to ISW experts, Russia "may use the flooding to widen the Dnipro River and complicate Ukrainian counteroffensive attempts across the already-challenging water feature".
The report states that Russian sources have expressed intense concern over the possibility that Ukraine has been preparing to cross the river and counterattack into the east bank of the Kherson region. Available footage from June 6 suggests that the flooding washed away Ukrainian positions near the Dnipro shoreline and forced Ukrainian formations to evacuate.
At the same time, Russian formations and positions on the east bank may have been caught off guard and threatened by the flooding due to the topography of the area. Overall, ISW believes that "the balance of evidence, reasoning, and rhetoric suggests that the Russians deliberately damaged the dam".
Key ISW notes:
Damage to the Kakhovka HPP dam in the early hours of June 6 caused massive flooding of the Dnipro River delta, river wetlands, estuaries, and shoreline settlements in the Kherson region.
The International Atomic Energy Agency (IAEA) and Ukrainian officials stated that the drop in the water level at the Kakhovka Reservoir should not affect the safety of the Zaporizhzhia Nuclear Power Plant (ZNPP).
Russian forces conducted another large-scale missile strike across Ukraine on the night of June 5-6.
Russian sources claimed that the pro-Ukrainian all-Russian Russian Volunteer Corps (RDK) and the Freedom of Russian Legion (LSR) are gone from a border settlement in Belgorod Oblast as of June 6.
Ukrainian officials offered assurances that the damage to the dam and subsequent flooding will not impede Ukrainian counteroffensive preparations.
Russian forces conducted limited ground attacks along the Svatove-Kreminna line.
Russian sources claimed that Ukrainian forces continued ground attacks north and southwest of Bakhmut, and Russian forces continued limited offensive operations along the Avdiivka-Donetsk line.
Ukrainian forces continued ground attacks in southwestern Donetsk and in the eastern Zaporizhzhia region.
Russian troops blew up the Kakhovka HPP at night, on June 6. The station is completely destroyed and cannot be restored. About 80 settlements in the Kherson region are in the flood zone, and most of them are temporarily occupied by Russians.