Russian terrorist attack at Zaporizhzhia NPP threat: Ministry of Health on actions and precautions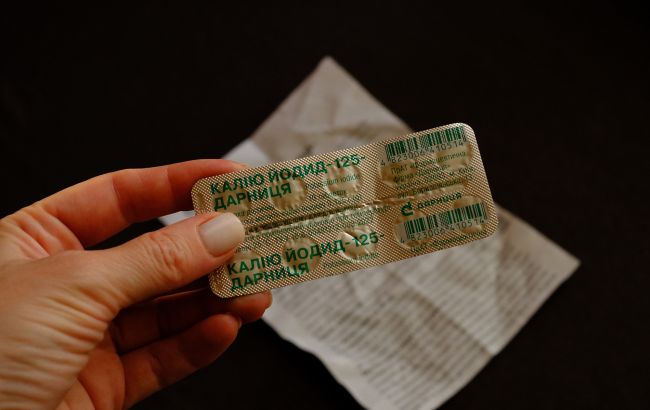 Potassium iodide (RBC-Ukraine)
After reports of a possible terrorist attack being planned by Russians at the Zaporizhzhia Nuclear Power Plant, concerns have arisen in society about radiation leakage. The Ministry of Health has reminded that uncontrolled consumption of potassium iodide can lead to numerous side effects, some of which are highly dangerous, reported the Ministry of Health's press service.
How potassium iodide works in the event of a nuclear disaster
During accidents at nuclear facilities, radioactive iodine (I-131) may be released. If a person is in the risk zone, it is likely that the substance will selectively accumulate in the thyroid gland, leading to its radiation exposure and damage. This can cause various diseases, including oncology.
The only effective medication for preventing radiation damage to the thyroid gland is potassium iodide. Controlled intake of this substance can help block the thyroid gland from absorbing I-131: it absorbs the potassium iodide and leaves no room for I-131.
However, potassium iodide (stable iodine) is only beneficial in specific situations, specific doses, and for certain groups of people. Therefore, taking it "just in case" is not advisable, as it can be harmful to one's health.
Overdosing on potassium iodide can cause:
Skin rashes;
Inflammation of the salivary glands with swelling, pain, partial loss of taste, and dryness in the mouth;
Gastrointestinal disorders such as nausea and diarrhea;
Serious allergic reactions, including fever, joint pain, and swelling of body parts;
Breathing, speaking, or swallowing difficulties;
Wheezing or shortness of breath;
Cardiovascular disorders;
Nervous system disorders, including restlessness, trembling, and hand tremors;
Goiter, enlargement of the thyroid gland;
Weight loss;
Hyperthyroidism;
Hypothyroidism;
There is also a risk of death.
"Do not take potassium iodide unless instructed to do so by health authorities or the State Emergency Service. Stay informed through official sources, and if you have any doubts, consult a doctor before taking potassium iodide," warns the Ministry of Health.
Russia plans terrorist attack with radiation release at Zaporizhzhia NPP
The Ukrainian President Volodymyr Zelenskyy recently announced that Russian occupiers might consider carrying out a terrorist act involving the release of radiation at the Zaporizhzhia Nuclear Power Plant.
"The intelligence received information that Russia is considering a scenario of a terrorist act at the Zaporizhzhia nuclear power plant — a terrorist act involving the release of radiation. They have prepared everything to do this," said the president.