Russian tactics of massive shelling, Ukraine Air Forces reveal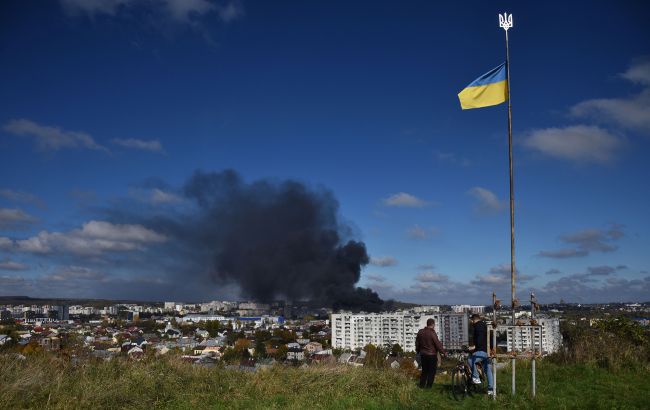 Photo: Russian massive shelling (Getty Images)
Russia has no plans to stop shelling Ukraine with missiles and kamikaze drones, and the absence of recent attacks in Kyiv should not be interpreted as an attack decrease on the capital, stated Colonel and spokesperson of the Ukrainian Air Force Command, Yuriy Ignat, during a telethon.
According to Ignat, the enemy does not abandon the terrorist method of warfare and continues to use ballistic missiles, explicitly mentioning the S-300 system. He also said that Russians would continue to use unmanned aerial vehicles (UAVs), noting several reasons why they are used.
Attacks on Kyiv
Ignat emphasized that the recent lack of shelling in the capital of Ukraine does not indicate a reduction in attacks. He mentioned that there are days with more attacks and days with fewer attacks, and the absence of attacks for three days does not mean an aggression decrease. He suggested that the enemy might be planning something or reallocating their forces to other directions.
Night attacks reasons
To understand the tactics of the enemy's shelling, Ignat pointed out that statistics show that most strikes occur at night, as it complicates the work of air defense systems. He explained that the attacks involve surface-to-air missile systems, mobile strike groups, and strike aircraft, which are part of the air defense system and are used to destroy missiles and "Shahed" drones. The enemy prefers to attack at night to make it more challenging to track and destroy aerial targets visually.
Night drone attack on Ukraine on July 3
Russian occupiers carried out another attack on Ukraine using "Shahed" kamikaze drones during the night. Air raid alarms were activated in many regions of the country. Air defense forces were active in the Kirovohrad and Khmelnytskyi regions and the Mykolaiv and Dnipropetrovsk regions. The Ukrainian air defense forces reported shooting down 13 "Shahed" drones.
Attack on Kyiv on June 16
The last attack on Kyiv by Russia occurred on June 16. Russian missiles, including "Kalibr" missiles, were launched from the Black Sea. Air defense systems were active on the approaches to Kyiv and surrounding areas. Explosions were reported in the Podil district of the capital. The Ukrainian Air Force warned about Russia's use of ballistic missiles during the attack. That day, the air defense forces successfully intercepted and destroyed 12 missiles, including 6 "Kalibr" and 6 "Kinzhal" missiles. Additionally, two UAVs were neutralized by air defense systems.