Russian propagandist in Crimea was informed of suspicion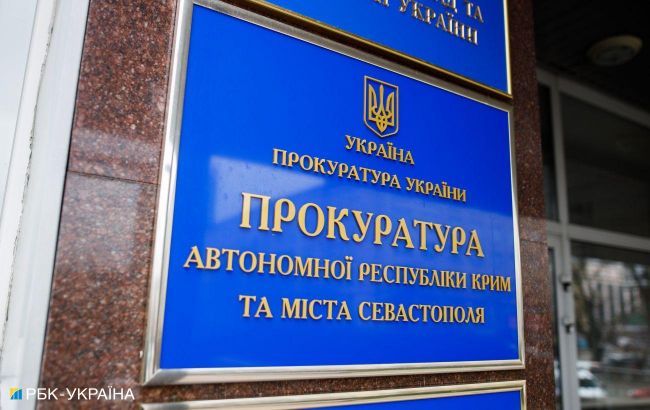 The prosecutor's office (photo: Vitalii Nosach, RBC-Ukraine)
The director-general of the propagandist media conglomerate TRK (Television and Radio Company) "Krym" has been informed of suspicion under four charges. He serves as the primary mouthpiece for the Kremlin on the peninsula, according to the Prosecutor's Office of the Autonomous Republic of Crimea and the city of Sevastopol.
Law enforcement authorities have informed the general director of the occupied media holding "Television and Radio Company of Crimea" about the suspicion.
TRK encompasses 16 pro-Russian media outlets, including the largest "Kremlin mouthpieces" in the temporarily occupied peninsula, such as "Pershyi Krymskyi," "Krym 24," and other media channels.
His activity
In his position, the suspect actively participates in organizing political and informational events to support Russia's armed aggression. He also engages in propagandist activities and promotes Russian narratives, thereby influencing the awareness of residents in the occupied territories.
The suspect disseminates materials calling for a violent change of Ukraine's established constitutional order and altering its state borders.
Photo: Collaborator (facebook.com/prok.arkrym)
"After the occupation of the peninsula by Russian armed forces, the suspect held various leadership positions at the television channels "Persyi Krymskyi," "Neapol," and the radio station "Leader." Additionally, he worked as the so-called Deputy Minister of Information and Communication of Crimea," as stated in the report.
The prosecution announced the suspicion
The actions of the suspect are qualified as:
Actions aimed at the violent alteration or overthrow of the constitutional order or the usurpation of state authority;
Encroachments upon the territorial integrity and inviolability of Ukraine;
Collaborative activities;
Justification, acknowledgment as legitimate, denial of the armed aggression by the Russian Federation against Ukraine, and the glorification of its participants.
He faces up to 12 years of imprisonment. The Telegram channel "Krymskyi Viter" reports that this pertains to Vadim Volodymyrovych Pervykh.