Russian equipment movement in the direction of Berdiansk recorded in Mariupol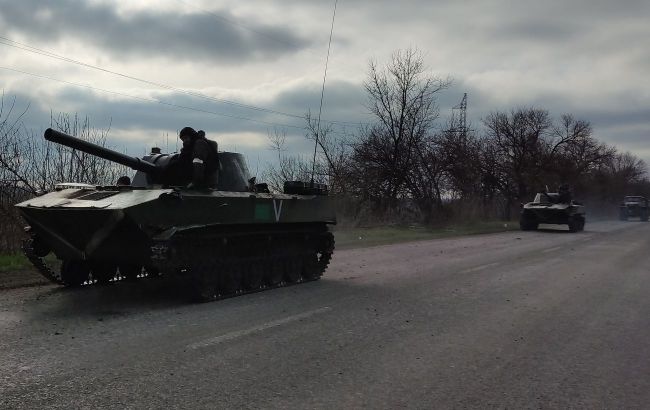 In Mariupol, a large movement of Russian equipment in the direction of Berdiansk is recorded (Photo: Getty Images)
In the temporarily occupied Mariupol, a significant movement of Russian military equipment has been observed. It is heading toward Berdyansk in the Zaporizhzhia region, Petro Andriushchenko, an advisor to the Mayor of Mariupol, reported.
Andriushchenko notes that through Mariupol in the direction of Berdyansk, at least 20 trucks with combat equipment, staffing, and special-purpose vehicles are moving. Additionally, there are four artillery wagons with tanks and around 10 with armored personnel carriers.
In Mariupol, a large traffic of Russian equipment is recorded in the direction of Berdiansk (Photo: t.me/andriyshTime)
Moreover, the accumulation of military personnel is taking place in the Nikolsky district. The buildup of staffing and equipment from the Zaporizhzhia region (the Rozivsky district) is ongoing.
There is also a high level of aviation activity. "Interestingly, the Primorsko-Akhtarsk aerodrome is being used again, and aircraft are flying at low altitudes, gaining height over Urzuf," Andriushchenko wrote.
The situation in the Berdyansk direction
According to the Institute for the Study of War (ISW), on August 17, the Ukrainian Armed Forces conducted a counteroffensive near the Donetsk-Zaporizhia border but did not make progress. The Ukrainian General Staff stated that Ukrainian forces continued their advance in the Berdyansk direction.
Previously, Andriushchenko reported that the movement of Russian aggressors towards Berdyansk through Mariupol had slowed down. This occurred after a strike on the occupiers' base.