Russian army lost half of its combat capabilities in Ukraine, top UK Admiral says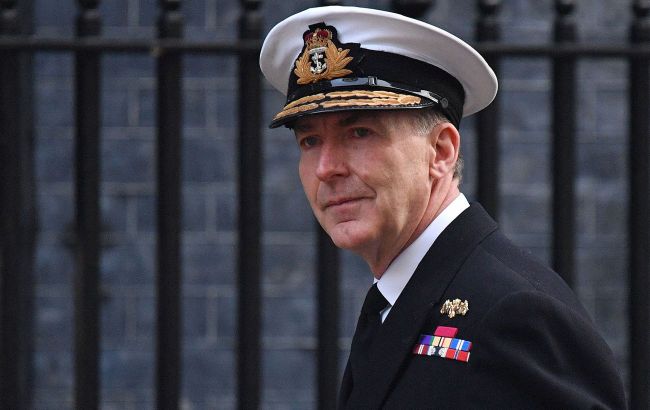 Chief of the Defense Staff of Britain, Admiral Tony Radakin (Getty Images)
The Russian army has lost half of its combat capabilities during the war against Ukraine, including 2,500 tanks, and the main strike of Kyiv's counteroffensive is yet to come, as Financial Times reports, referring to Chief of the Defense Staff of UK, Admiral Tony Radakin.
"Russia has lost nearly half of the combat capability of its army," Radakin said during hearings in the British Parliament.
According to his information, last year the Russian army fired 10 million artillery shells but can produce only 1 million shells per year at best. "It has lost 2,500 tanks and can produce 200 tanks per year at best," he said.
Radakin dismissed the assumption that Ukraine's counteroffensive is progressing slowly, stating that Russia's defense "has never been a singular act" and that Kyiv's military strategy of "stretching and striking" gradually broke through Russian defense lines.
He acknowledged that the "denser than expected" density of Russian minefields, the absence of needed airсraft, and the "not all the equipment Ukrainians desired" complicated the campaign. However, he also stated that it is unfair to attach Ukraine to specific timelines and that "Russia is currently so weak that it lacks the strength for its own counteroffensive."
Counteroffensive by the Armed Forces of Ukraine
The counteroffensive actions began at the beginning of June. Western media actively report that it is progressing slower than expected.
According to British intelligence, Russia has perfected tactics aimed at slowing down the counteroffensive operations of Ukrainian armored vehicles in southern Ukraine. This approach is based on intensive use of anti-tank mines.
As Advisor to the Head of the Office of the President of Ukraine Mykhailo Podoliak said, Ukrainian forces' actions will lead to the collapse of the Russian front. This could happen "in a week, a month, or a month and a half."