Russia knew about Hamas' preparations for attack on Israel - Ukrainian Intelligence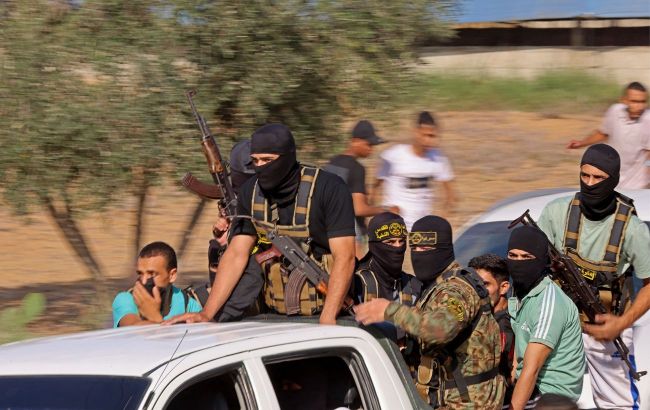 Russia knew about Hamas's preparations for an attack on Israel (Photo: Getty Images)
The Russian authorities were aware of the preparation of Hamas militants for an attack on Israel that occurred on October 7. Moreover, Moscow provided weapons to the terrorists that they managed to capture during the war against Ukraine, according to a comment of Andrii Chernyak, a representative of the Defense Intelligence of the Ministry of Defense, to RBC-Ukraine.
"According to Military Intelligence Directorate's data, the Russian leadership knew that Hamas was preparing a terrorist attack on Israel. Moscow provided the militants with weapons they managed to capture during the war against Ukraine," Chernyak said.
In addition, Ukrainian intelligence knows that Russian private military companies (PMCs) cooperate with Hamas, particularly in exchanging experience in conducting military operations.
"Now the Kremlin is using the fact of the Hamas attack to spread another round of propaganda against Ukraine and to divert the world's attention from Russian aggression," Chernyak noted.
At the same time, according to the Military Intelligence Directorate's assessments, several groups operating in conflict zones perform tasks exclusively in the interests of Russia.
Russia's connections with Hamas
In May of last year, a representative delegation from the Gaza Strip visited Russia, where they met with the Minister of Foreign Affairs, Sergey Lavrov, and the Head of Chechnya, Ramzan Kadyrov.
Leaders of Hamas, recognized as a terrorist group by the United States, the EU, Israel, and many other countries, have repeatedly met with Russian diplomats.
Russia collaborates with Iran to supply many drones for attacks on Ukraine and now encourages attacks on Israel. Moreover, Moscow has maintained ties with Palestinian terrorist groups and individual extremists since Soviet times.
Hamas deceived Israel for two years before the attack
Reuters reported, citing sources from the Palestinian side, that Hamas used tactics to convince Israel not to engage in war.
Terrorists deliberately created the impression that they were not preparing for battle, although everything was the opposite. Hamas built a replica of an Israeli settlement in the Gaza Strip, where militant groups practiced a military landing and assault. All of this was recorded on video.
According to Reuters, a source in the Israeli security services admitted that Hamas deceived Israel's security services.
"They made us think they needed money. And all the time, they were involved in training until they launched an offensive," the source said.
Hamas attack on Israel
Recall that on the morning of October 7, the Palestinian terrorist group Hamas, which controls the Gaza Strip, launched a massive rocket attack on Israel. Simultaneously, militants broke into Israeli territory.
The terrorists managed to capture several settlements, but within a few days, the Israeli army regained control of 100% of the territory.
Israel declared a "state of war" and the beginning of the counter-terrorist Operation Iron Swords, striking objects in the Gaza Strip. Over the past night, 200 such things were hit.