Russia bears responsibility for the dam destruction - White House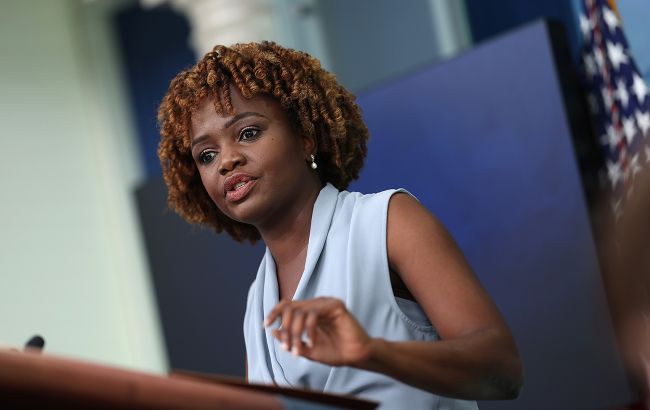 Photo: Karine Jean-Pierre, White House Press Secretary (Getty Images)
White House Press Secretary Karine Jean-Pierre in a briefing said that the White House holds Russia responsible for the sabotage of the Kakhovka hydroelectric power plant in Ukraine because the Russian occupation forces controlled the dam and surrounding territory in the Kherson region.
She also noted that the United States continues to assess what happened at the Kakhovka HPP.
In response to questions about whether the Administration has a better insight on who or what caused the dam collapse, Jean-Pierre emphasized that Russia had "no business to be there in the first place".
"And you know, this dam was under Russia's control, and they bear responsibility for the destruction caused by this war. And we will do everything we can to support the people of Ukraine at this difficult time," said the White House spokesperson.
She added that if Russia had not launched a full-scale invasion of Ukraine, this tragedy would not have occurred, so the responsibility for the situation lies with the Kremlin.
Kakhovka HPP sabotage
Russian occupiers detonated the Kakhovka HPP in the Kherson region overnight on June 6. As a result of the dam's destruction, a number of settlements in the region were flooded. According to "Ukrhydroenergo", the main hydropower generating company of Ukraine, the hydroelectric power plant was completely destroyed and is beyond repair.
According to the Main Intelligence Directorate of the Ministry of Defense of Ukraine, the Russians remotely detonated the Kakhovka HPP. The facility had been under the control of Russian forces for over a year, and there were reports in the fall that the occupiers had mined the facility.
As stated earlier by Mykhailo Podoliak, an advisor to the head of the President's Office, the dam could have been detonated by the 205th Motorized Infantry Brigade of the Russian army.
Following the sabotage of the Kakhovka HPP, law enforcement agencies have already initiated an investigation into the case of ecocide and violations of laws and customs of war.
In addition, according to Andrii Yusov, the representative of the Main Intelligence Directorate, there is evidence of Russia's involvement in the sabotage of the Kakhovka HPP, and it is actively being collected.