Rules will change. Why half of Ukrainian children in Poland don't attend school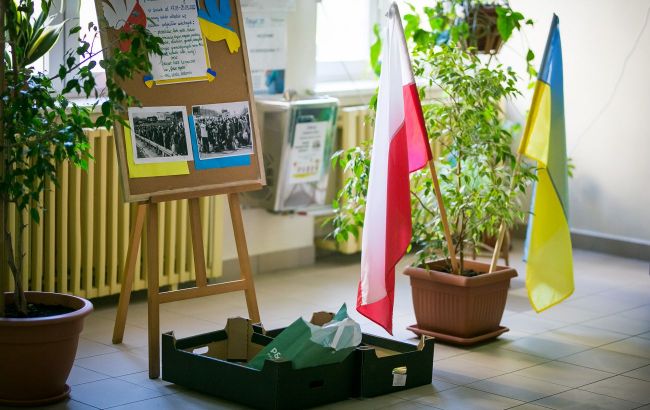 Support of Ukraine in Polish schools (Photo: Getty Images)
More than half of Ukrainian children in Poland do not attend school. This means that 200-300 thousand school-aged Ukrainians are outside the country's school system.
The UN urges parents to register their children in Polish schools, while the authorities are considering the possibility of making attendance mandatory for refugees, according to notesfrompoland.com.
Why refugee children don't go to Polish schools
According to UNICEF and UNHCR, at the end of the school year, only 22% of school-aged refugees attended Polish schools. In total, about 180 thousand children from Ukraine attended schools and kindergartens in Poland. However, 200-300 thousand children are left outside the Polish education system, as estimated by the authorities.
UN agencies warn that online education is suitable as a short-term solution, but in the long run, it does not contribute to social development and often results in a low level of knowledge.
Learning in a safe environment with peers and teachers is important not only for the education of refugees but also for their socialization, mental health, and well-being, according to the agencies' statement.
"Schools go beyond places of learning, especially in times of war. They provide children who have already endured loss, displacement and violence with a sense of routine and safety, a chance to build friendships and get help from teachers, and the opportunity to integrate into host communities," said Rashed Mustafa Sarwar, Coordinator of the UNICEF Office for Refugee Needs.
Reasons why the majority of Ukrainian children are not enrolled in schools: Polish classes are often overcrowded, language barriers persist, and frequent displacement of refugees to and from Ukraine and Poland.
A lesson in a Polish school (Photo: Getty Images)
Compulsory school attendance is considered
Earlier, the Minister of Education of Poland, Przemysław Czarnek, stated that if the war continues, Poland may introduce mandatory enrollment of refugee children into Polish educational institutions.
"If this is to continue, we must introduce certain elements of education even if these children do not want to enter a Polish school. We cannot afford to have several hundred thousand children from Ukraine out of the education system for a year, two or three years," the official said.
He clarified that such a mechanism could be implemented starting from the beginning of the school year on September 1.