Putin to visit Türkiye: Erdogan and Russian dictator arrange visit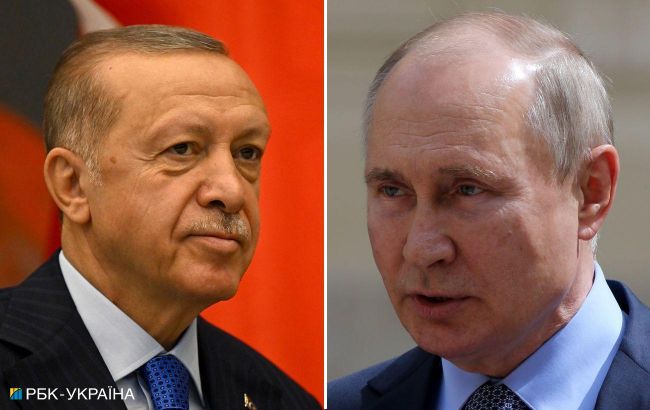 President of Türkiye, Recep Tayyip Erdoğan, Russian dictator Vladimir Putin (Collage, RBC-Ukraine)
According to Hürriyet, President of Türkiye Recep Tayyip Erdoğan engaged in a series of phone negotiations with Russian leader Vladimir Putin, resulting in an agreement for Putin's impending visit to Ankara.
Key points of discussion:
Erdoğan and the dictator have concurred on Putin's visit to Türkiye.
Erdoğan emphasized the significance of de-escalating tensions in the war against Ukraine, while also underscoring the importance of the "grain deal," which he views as a "bridge to peace."
"Highlighting that the inaction of the Black Sea Initiative over an extended period serves no one's interests and that countries with lower income levels that require grain are suffering the most, President Erdoğan noted that grain prices, which decreased by 23% during the implementation period of the initiative, have risen by 15% over the last two weeks," the publication states.
The President of Türkiye underscored Ankara's commitment to continuing the "grain deal."
The publication indicates that the "grain deal" will be a topic on the agenda for the meeting between the President of Türkiye and the Russian leader. Erdoğan specifically stated that "Putin wants this humanitarian bridge to continue operating."
The Grain Deal
In July of the current year, Russia withdrew from the "grain deal," which facilitated the safe export of foodstuffs from the ports of Odesa. According to Kremlin spokesperson Dmitry Peskov, "Moscow is ready to promptly return to the deal, but only after the conditions are met by the country."
Furthermore, the occupying country has escalated attacks on Ukraine in recent weeks. The bulk of the strikes have been directed at the southern regions, particularly the ports.