Prigozhin-Shoigu confrontation intensifies at bad time - British intel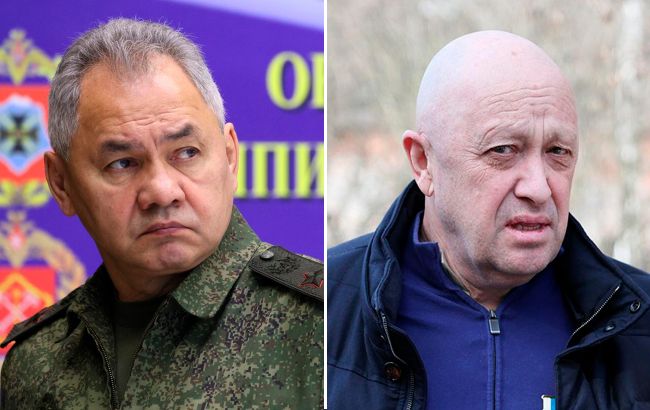 Prigozhin and Shoigu have a long-term conflict
Evgeny Prigozhin, the owner of the Wagner Group, has intensified his confrontation with the Russian Ministry of Defense, creating an evidently uncomfortable situation for Minister Sergei Shoigu, said the UK Ministry of Defense on Twitter.
The report states that on June 19, Prigozhin said he was awaiting a response from the Russian Ministry of Defense regarding a self-drawn contract that he submitted to the ministry three days prior.
This follows an ultimatum from the Russian Ministry of Defense to the Wagner Group and other "volunteer formations" to sign contracts by July 1, 2023.
"It's highly likely another deliberate effort to undermine the authority of the official military authorities. Prigozhin's tone towards the Ministry of Defense has become unambiguously confrontational. The Ministry of Defense almost certainly sees this as deeply unfortunate at a time when it is grappling with Ukraine's counter-offensive," the tweet says.
The Prigozhin-Shoigu conflict
The Russian Ministry of Defense ordered that all mercenaries must sign a contract with the ministry However, Evgeny Prigozhin, head of the Wagner Group, stated that his fighters would not sign the contracts. According to him, Shoigu's orders should only apply to the Ministry of Defense.
According to British intelligence, Prigozhin has been severely criticizing the leadership of the Ministry of Defense for several months but submitted to Putin's authority. However, disregarding Putin's comments, on June 14, Prigozhin stated that "none of the Wagner fighters are prepared to follow the path of disgrace and sign the contracts again".
Mykhailo Podolyak, an Advisor to the Head of the Office of the President, told RBC-Ukraine in an interview that the activities of the Wagner Group's owner, Evgeny Prigozhin, could lead to unrest and rebellion within Russia, as he is the first to recognize the new reality.