Powerful earthquake occurred in Morocco - Hundreds of people killed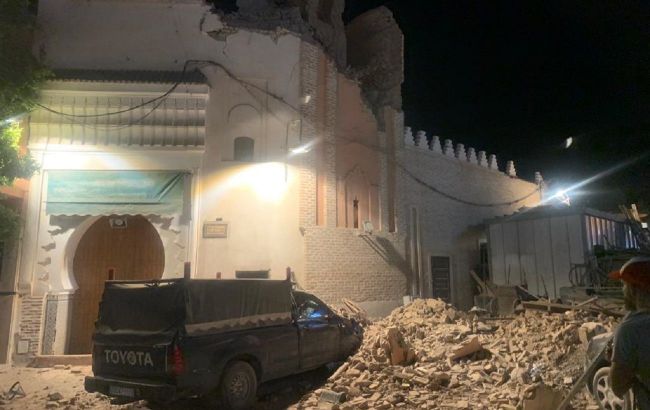 The aftermath of the earthquake in the city of Marrakech (photo: twitter.com/Omar_H_)
A powerful earthquake with a magnitude of 6.8 struck the High Atlas Mountains in northern Africa, Morocco. As a result, a large number of buildings were destroyed, and the death toll reached several hundred, according to reports from Al-Arabiya and Reuters.
The United States Geological Survey (USGS) reported that the earthquake on Friday night occurred at a relatively shallow depth of 18.5 km in the mountainous region of Ighil. However, the German Research Center for Earth Sciences (GFZ) stated that it happened at a depth of 27 km and initially estimated the magnitude to be 7.0.
According to the Ministry of Interior of the country as of the morning of September 9, as a result of the earthquake in several regions of Morocco, at least 296 people have died.
Additionally, 153 injured individuals have been transported to hospitals.
Earthquake Morocco Richter 6.8#marrakech #agadir #casablanca #fes#مراكش #فاس #أغادير #الدار_البيضاء#moroccoearthquake #morocco #earthquakemorocco #earthquake#زلزال_المغرب #هزة_أرضية pic.twitter.com/EXBcv4rw17

— Jalal (@jalaloni) September 8, 2023
The closest major city to the earthquake's epicenter was Marrakech, located 70 km from Ighil. In Marrakech, some buildings collapsed in the area of the old city, which is a UNESCO World Heritage Site.
The earthquake resulted in damage to buildings and historical landmarks in major cities.
#BREAKING #Morocco #earthquake #Marrakech #الزلزال #المغرب

The moment a building completely collapsed following the earthquake that struck Morocco a short while ago. pic.twitter.com/9n22NfiC8F

— Bot News (@BotNews18) September 9, 2023
Local television showed footage of a mosque's minaret with debris lying on top of damaged cars.
According to a local official, most of the civilian casualties occurred in remote mountainous areas that were difficult to access.
How can MSM say "no immediate reports of damage"

This is the Mosque near the famous Jamaâ El Fnaa square in #Marrakech.#Morocco #Maroc pic.twitter.com/W4HXiCwamM

— Volcaholic (@volcaholic1) September 8, 2023
#BREAKING #Morocco #earthquake #Marrakech #الزلزال #المغرب

The first moments of the earthquakes recorded by a street camera in El Jadida, Morocco. pic.twitter.com/0ikebbCuGy

— Bot News (@BotNews18) September 9, 2023
First death toll from #Morocco #Earthquake:

- Al Haouz: 94 dead
- Chichaoua: 6 dead
- Azilal: 5 dead
- Marrakech: 4 dead
- Ouarzazate: 4 dead
- Agadir: 2 dead

Total: 115 dead, expected to rise pic.twitter.com/aEA9aVvZTa

— Jaya Mishra (@anchorjaya) September 9, 2023
Many buildings have collapsed in this area of Marrakech. Efforts are underway to clear the debris at the scene.
According to the Moroccan Ministry of Interior, most of the damage occurred outside of cities and towns.
Destructive earthquakes in 2023
Recently, in the eastern Chinese province of Shandong, an earthquake with a magnitude of 5.5 on the Richter scale occurred. As a result, on August 6, 126 buildings were damaged, and over twenty people were injured.
Also in August, a magnitude 6.3 earthquake occurred in the capital of Colombia, Bogota, resulting in one fatality and significant damage.
The most devastating earthquake with a high number of casualties occurred in Türkiye in the winter. In February, near the city of Gaziantep, with a population of over 1 million people, an earthquake with a magnitude of 7.8 occurred. This earthquake resulted in the death of over 50,000 people.