Polish airliner flew into Ukraine's closed skies: incident details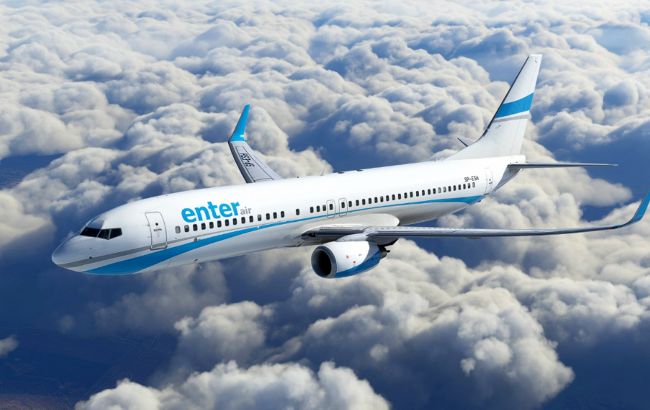 Enter Air airplane (flightsim.to)
Ukraine's airspace has been closed to civilian aviation since the beginning of the war. However, on June 23, a Polish plane with passengers flew over Uzhhorod in the west of Ukraine. The specialized avianews.com publication reports that there were reasons behind the incident and potential risks for the airliner.
A Boeing 737-800 aircraft belonging to the Polish airline Enter Air entered into the restricted Ukrainian sky, carrying out a charter flight from the Polish airport in Poznań to the Turkish resort of Antalya. The incident occurred on June 23
According to data from the Flightradar24, the Enter Air plane entered Ukraine no more than 25 kilometers from the border.
The airliner flew over Uzhhorod and remained in Ukrainian airspace for about 5 minutes. Polish dispatchers explained that during this time, the pilots maintained communication with the tower in Bratislava, Slovakia.
The Polish Air Navigation Services Agency (PANSA) provided information to the State Commission for the Investigation of Aviation Incidents.
The reason why Slovak dispatchers might have directed the airliner towards Ukraine could have been a thunderstorm.
Photo: Flight route over Ukraine (Flightradar24 screenshot)
In 2006, a plane belonging to the Russian airline "Pulkovo" crashed near Donetsk when the pilots encountered a thunderstorm front. Attempting to ascend to the maximum possible altitude did not help, as the plane lost speed and crashed.
Civilian planes fly near the Ukrainian border in the vicinity of Uzhhorod every day, so, according to experts, for the Polish airliner with passengers, venturing a few kilometers into Ukrainian airspace far from the front lines posed less danger than entering the center of the storm.
The passengers safely reached Antalya. Later, the airline confirmed that everything was conducted according to safety procedures, and the aircraft did indeed circumnavigate the thunderstorm front.