No alternatives for Peace Formula: Zelenskyy's Office explains what victory means for Ukraine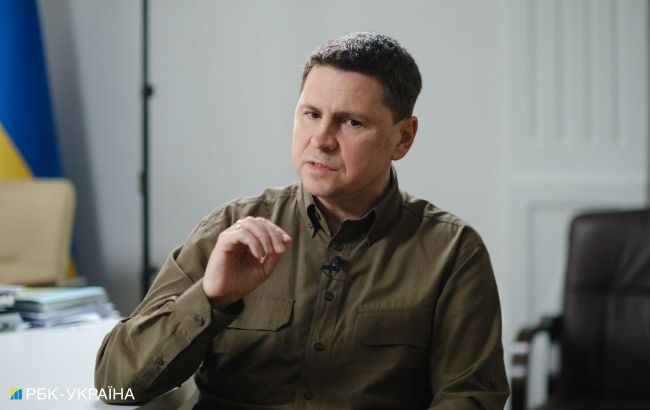 Advisor to the Head of the President's Office Mykhailo Podolyak (Vitalii Nosach, RBC-Ukraine)
Ukraine will consider victory not only as the full de-occupation of territories but also as the prevention of future wars. Currently, there is no alternative to the Ukrainian Peace Formula, as Advisor to the Head of the President's Office Mykhailo Podolyak believes.
"There is a question I often hear: 'What goal does Ukraine set for itself and what does it see as a victory?' I respond. Besides the unconditional return of territories, Ukraine's strategic goal is to create conditions that prevent future aggression," Podolyak explained.
Ukraine does not consider any scenarios of "freezing the war," recognizing Russia's annexation, or abandoning NATO membership. Such scenarios would only encourage Russia to grow its ambitions and return to war after a short break.
"That's why there is no alternative to the Ukrainian Peace Formula: strengthening the army, accelerating the supply of weapons, de-occupying territory, changing the regime in Russia, compensation from the new government, and mandatory punishment of war criminals," he added.
Ukrainian Peace Formula
The formula initiated by President Volodymyr Zelenskyy during the G20 summit includes 10 points:
Radiological and nuclear safety (Russian withdrawal from the Chornobyl Exclusion Zone, abandonment of nuclear threats).
Food security (expanding the grain deal).
Energy security.
Release of all prisoners and deportees (release based on the "all for all" formula).
Implementation of the UN Charter and restoration of territorial integrity and world order.
Withdrawal of Russian forces and cessation of hostilities.
Justice.
Ecocide.
Immediate need for environmental protection.
Prevention of escalation.
Fixation of the end of the war.