NATO withholds concrete path for Ukraine's membership amid war - Stoltenberg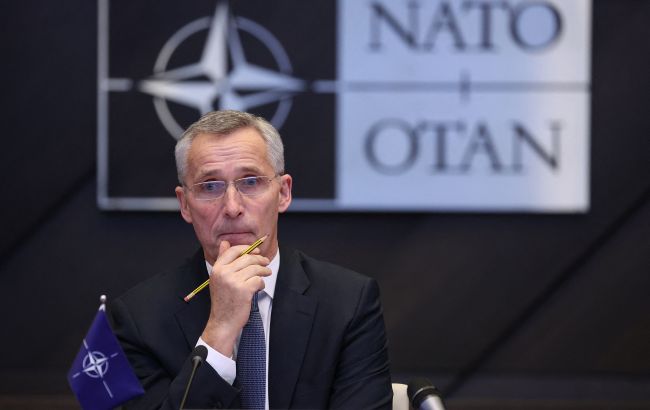 Photo: Jens Stoltenberg Secretary General of NATO (Getty Images)
Stoltenberg emphasized that Ukrainian President Volodymyr Zelenskyy is pressing for a concrete path toward NATO membership.
"At the same time, I believe it's not possible to give precise dates when we are in the midst of a war," he stated.
Stoltenberg underscored that the immediate priority for all NATO allies is to ensure Ukraine's triumph as a sovereign and independent nation. If the need arises, additional military support will be provided. "Unless Ukraine prevails, then there's no membership to be discussed at all, because it's only a sovereign, independent, democratic Ukraine that can become a NATO member," he added.
In the long term, Stoltenberg disclosed that an extensive program would be devised to facilitate the transition of the Ukrainian Armed Forces from old Soviet standards and doctrines to contemporary NATO practices. This comprehensive plan aims to enhance their operational compatibility with NATO forces, advancing their prospects of joining the Alliance.
NATO Summit in Vilnius
Stoltenberg emphasized that the critical outcome of the NATO Summit in Vilnius in July would be concrete support for Ukraine in words and actions.
"I'm absolutely certain that our NATO allies will make new announcements of significant military support to Ukraine and to promise to sustain and step that up, because we will make absolutely clear that we are there to support Ukraine for as long as it takes," he added.
Regarding membership, Stoltenberg mentioned ongoing consultations among allies, and while it is too early to predict a specific outcome, there is a broad consensus. He affirmed that NATO's doors are open, as demonstrated with Finland and Sweden for new members.
"We also agree that Ukraine will become a member of this Alliance. This has been stated many times by NATO, last time at a summit last year. And then, thirdly, we agree that it's for Ukraine and the 31 NATO allies to decide when the time is right for Ukraine to become a member. It's not for Russia. Russia doesn't have a veto," the Secretary General of NATO added.
The NATO Summit in Vilnius is scheduled for July 11-12. Minister of Foreign Affairs of Ukraine Dmytro Kuleba stated that Ukraine expects a "clear timeline for accession" to the Alliance following the summit.
However, the Western press extensively discusses that Ukraine can only join NATO after the war is over.
The topic of "security guarantees" for Ukraine is also actively debated. Western officials acknowledge that NATO's commitment to collective defense under Article 5 is the only valid "security guarantee."