Moldovan President states Prigozhin planned to overthrow Moldova's govt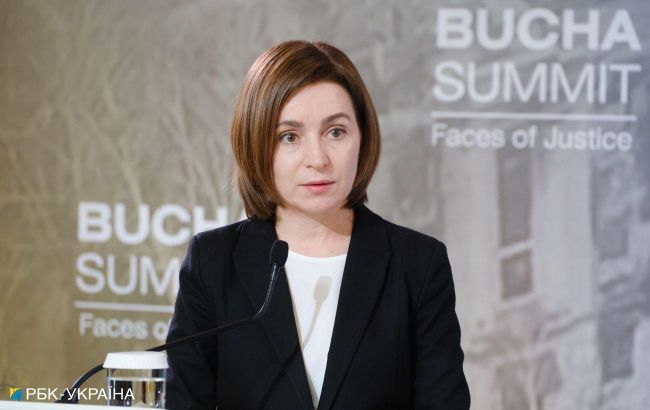 Moldovan President Maia Sandu (Photo: Vitalii Nosach, RBC-Ukraine)
Mercenaries from the private military company Wagner and its leader, Yevgeny Prigozhin, were behind the attempted state coup in Moldova, according to Moldovan President Maia Sandu.
She clarifies that Yevgeny Prigozhin planned the coup at the beginning of this year.
"The information that we have is that it was a plan prepared by [Prigozhin's] team. The situation is really dramatic and we have to protect ourselves," Sandu said.
She adds that they wanted to incite anti-government protests to turn violent.
Russia targets Moldova's elections
She also states that Russia uses various methods, including cash and bank cards issued in Dubai, to transfer money to Moldova in an attempt to bribe voters.
This week, Sandu appealed to the EU to impose sanctions on companies linked to Moldovan pro-Russian politician Ilan Shor, which he uses to continue channeling money into the country.
Sandu states that she has evidence that Russia has deliberately targeted local elections to gain a political boost ahead of the presidential elections next year and the parliamentary elections in 2025.
Moldovan intelligence services have uncovered at least 20 million euros being transferred by Russia into the country for political purposes.
Coup attempt in Moldova
Ukrainian President Volodymyr Zelenskyy stated in February that Ukrainian intelligence had intercepted a Russian plan to disrupt the political situation in Moldova. Its goal was to undermine Moldova's democratic order and seize power on Moscow's behalf.
Moldovan President Maia Sandu revealed that Russia was doing everything in its power to establish pro-Russian rule in Moldova to use the country's territory in the war against Ukraine, similar to how the Kremlin already used Belarus.