Mirror date 11.11: What not to do and how to make a wish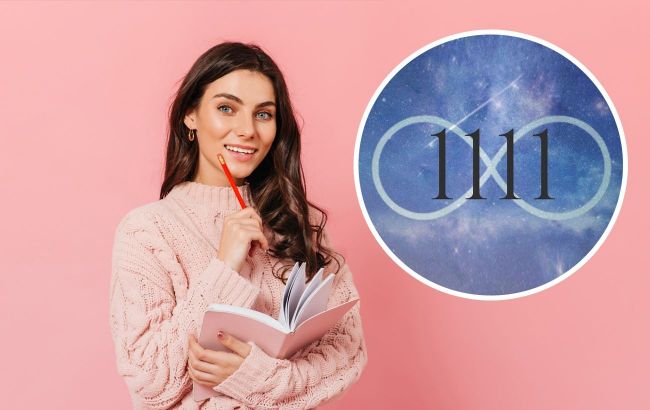 Mirror date November 11 (photo: collage by RBK-Ukraine)
In November, a unique mirrored date awaits us, which will allow us to bring our boldest dreams and desires into reality. According to esoterics, dates when a portal between worlds opens are the best days to achieve happiness and change one's life.
How to make wishes correctly and what not to do on a mirrored date.
Sources used in preparing the material: JoyPup, Parade.
When is the mirror date
An important mirrored date is approaching tomorrow - 11.11.2023. The number 11 in numerology holds significant meaning, representing a combination of creative energy, sensitivity, and heightened intuition.
Two ones symbolize a portal between worlds, which will open for just one day. The paired ones amplify its energy.
On such days, incredible opportunities unfold, providing a catalyst for significant life changes. A balance between inspiration and intuition awaits you.
The sum of the numbers is also meaningful: 1+1+1+1=4.
Four symbolizes all valuable material gains that can be obtained through one's efforts—money, material possessions, and ideas. The purpose of this number is to remind us that we are responsible for our prosperity achievements.
What is allowed to do on a mirror date
Pay attention to signs. The universe may send signals on such days. It could be a leaf landing in your hands or specific numbers on the clock. Remember what you were thinking or decided in those moments.
Take a pause and listen to yourself. Close your eyes, release your thoughts, and listen to your inner self. If your initial thought is about fatigue, consider taking a break on 11.11 or dedicate at least part of the day to relaxation. If you think about your loved ones, visit them and spend time together.
If an idea or a project comes to mind, allocate time to work on it, jot down your thoughts. If you've been stuck, this day might help you make progress.
This day is also favorable for successful meetings, new acquaintances, communication, planning, and setting goals. It's a good time to seek answers to questions or solutions to complex tasks.
Certainly:
Listen to yourself
Pay attention to symbols and signs
Be open to the new
Trust your intuition
Accept yourself
Take note of dreams, numbers, and digits
Do something good
Organize – at home, in closets, on your desk, with gadgets
What should not be done on a mirror date
On such a day, it's essential not to wish harm to anyone, even unintentionally or in thoughts. Avoid using negative language, expressing jealousy, employing rituals for negativity, insulting others, or engaging in magical or spiritual rituals.
It's crucial not to dwell on negative thoughts, whether about oneself or others. Refrain from taking offense or causing pain and suffering to others.
How to attract luck
On such days, various rituals to attract positive elements into your life can be successful – whether it's for love, change, prosperity, or abundance. Use anything not associated with black magic.
For attracting money: At 11:11 on November 11t arrange banknotes and coins on a table. Say: "Money goes to money, multiplies, my problems cease." Repeat this ritual at 23:11 on the same day. Carry the enchanted money in your wallet until the next mirrored date.
For making a cherished wish: Write your wish on 11 sheets of paper. Formulate it clearly in the present tense (not past or future), and it should only concern you personally. Try to feel the scents and see the moment of its fulfillment. Fold the sheets into a glass and say: "May the wish come true, be my dream."
Vision board: A mirrored date is an excellent day to create your own vision board. It's a special collage where you use pictures and words to outline what you want to achieve in the next 12 months. Write where and who you see yourself as in a year, what you need for happiness. All desires should be specific and directly related to you.