Lithuanians' attitude toward Ukrainians after a year and a half of war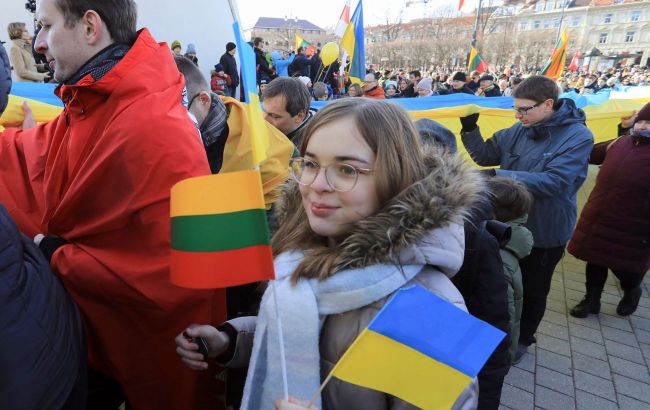 Ukrainians in Lithuania (Getty Images)
Lithuania has provided shelter to over 50,000 Ukrainians, and even after a year and a half of war, the level of support for refugees in society remains high.
According to a survey conducted by Sprinter on behalf of the Vilnius office of the International Organization for Migration (IOM), Lithuanians' attitude towards those fleeing the war in Ukraine has been very favorable, madeinvilnius.lt reports.
The survey revealed that the Lithuanian attitude towards Ukrainian refugees is the most welcoming compared to migrants from other countries.
"At present, Lithuania hosts over 50,000 Ukrainians. It's worth noting that they are assessed most favorably, with a score of nearly 8 out of 10, compared to other migrants arriving in Lithuania. This means that Ukrainians are quite integrated into Lithuanian society," said Eitvidas Bingelis, the head of IOM Lithuania.
Half of those surveyed (49%) are in favor of allowing Ukrainians who learn the language and find work to remain in the country after the war. A third (36%) don't object to Ukrainians staying in Lithuania if they have such intentions. Only one in ten is against Ukrainian refugees staying in Lithuania after the war.
Meanwhile, a substantial majority of Lithuanians (76% of those surveyed) support accepting Ukrainians in the country at the present time. Only 17% are opposed to this.
Over half of the survey participants (57%) are in favor of providing one-time assistance to Ukrainians for settlement. Additionally, 47% strongly approve of aid and benefits for disabled individuals, while 44% support social assistance for students, and 42% endorse child benefits.
The integration of Ukrainians is primarily supported by residents of large cities and those with higher incomes.
"Lithuanians have a very positive view of Ukrainians living in the country. Most also believe that Ukrainians should integrate more into our country, but at the same time, they are willing to provide assistance," explained Eitvidas Bingelis, discussing the survey's findings.
According to him, Ukrainians are seen as hardworking people, which garners sympathy from Lithuanians. According to the respondents, the primary means of integration for Ukrainians are Lithuanian language courses (57%) and assistance with paperwork (47%).