Kremlin talks about possible annexation of Abkhazia and South Ossetia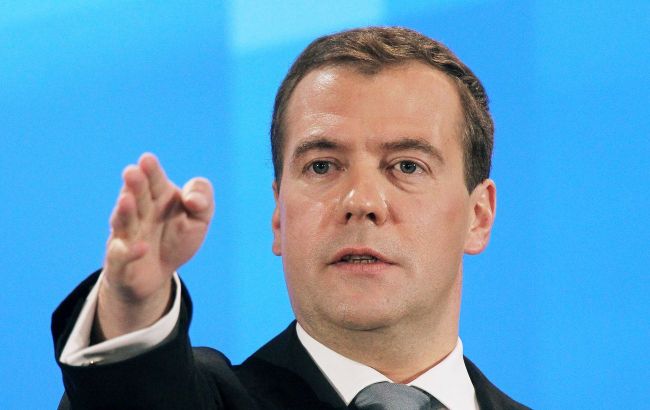 Deputy Chairman of the Russian Security Council Dmitry Medvedev (Getty Images)
The Kremlin began threatening to annex the Russian-controlled Georgian regions of Abkhazia and South Ossetia, according to Deputy Chairman of the Russian Security Council, Dmitry Medvedev, citing the Russian propaganda agency TASS.
In his article for the Russian publication aif.ru, Medvedev voiced the possibility of "accession" of these territories to Russia if Western countries "continue to escalate the situation in Georgia."
Medvedev believes that Russia's recognition of the "independence" of Abkhazia and South Ossetia in 2008 supposedly "aligned with the will of the people of these countries, the UN Charter, and established historical justice."
The Kremlin representative also commented on Ukraine in the article, reiterating the familiar fake claims of a "fascist regime" awaiting a "disgraceful end." He alleged that Ukraine is preparing an attack against Russia, suggesting that Ukraine's existence could be in jeopardy as a result of a Russian war against Ukraine, which he claimd was necessary for self-defense.
"The West and its coordinated actions with Kyiv have long been preparing a massive aggression against Russia. In response, Russia had to initiate a 'special military operation' to prevent a catastrophic outcome," Medvedev asserted.
Occupation of Georgian territories by Russia
On August 7, 2008, Russia deployed its troops into Georgian territory, leading to the loss of Georgian control over Abkhazia and South Ossetia. On August 26, 2008, Russia recognized the "independence" of these regions.
In August, on the 15th anniversary of Russia's war against Georgia, Ukrainian President Volodymyr Zelenskyy expressed solidarity with the Georgian people and reiterated strong support for the sovereignty and territorial integrity of Georgia.
Furthermore, according to U.S. Secretary of State Antony Blinken, the United States seeks to hold Russia accountable for its aggression against Georgia in 2008 and its failure to fulfill the agreement on the withdrawal of troops from Georgian territory.