Kakhovka dam blust: 150 tonnes of engine oil got into Dnipro River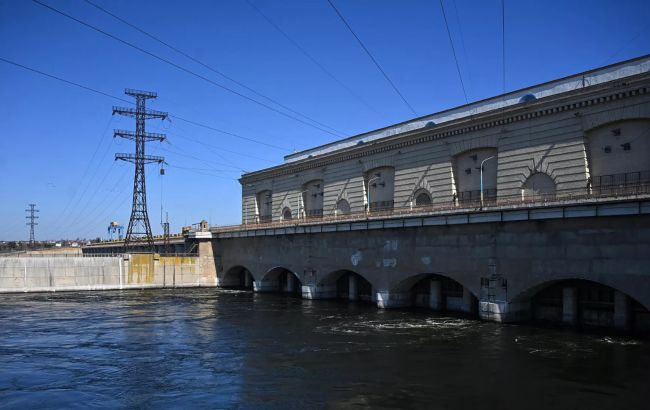 Kakhovka Hydroelectric Power Plant (Russian media)
At least 150 tonnes of engine oil spilled into the Dnipro River after Russia had blown up the dam of the Kakhovka Hydroelectric Power Plant (HPP). There is a risk of further leakage, as Ukraine's Presidential Office stated following a meeting of the National Security and Defense Council (NSDC).
"The NSDC members were informed that at least 150 tons of machine oil got into the Dnipro River, and there is a risk of further leakage of more than 300 tons," the statement says.
The participants agreed on a set of international measures, including convening a meeting of the UN Security Council, as well as appealing to international environmental organizations and the International Criminal Court, as such actions of the Russians bear clear signs of violation of the Geneva Convention.
Also, the current situation at the Zaporizhzhya Nuclear Power Plant was discussed. As the statement reads, the Ukrainian personnel of the station have the situation under control and have tools in case of any developments.
Following the meeting on the sabotage situation, Secretary of NSDC Oleksiy Danilov said that "nothing and no one, no Russian, will stop the liberation of Ukraine, the time has come."
Meanwhile, there was also a meeting of the State Commission on Technogenic and Environmental Safety and Emergencies on evacuation, as well as providing the population with drinking water.
The Russian occupiers blew up the dam of the Kakhovka HPP tonight. The station is completely destroyed and cannot be restored, 16 thousand people on the right bank of the Dnipro River are in danger due to the major floods.
Ukraine's Main Directorate of Intelligence noted that the Russians remotely blew up the Kakhovka HPP. Meanwhile, the adviser to the head of the Presidential Office Mykhailo Podolyak said that the dam could have been blown up by the 205th motorized rifle division of the Russian army.
According to Ukraine's President Volodymyr Zelenskyy, such actions will not stop Ukraine from liberating its own territory. Earlier, Zelenskyy said that Russian terrorists had mined the dam and the units of the Kakhovka HPP.
Ukraine's authorities are conducting evacuation in flood-effected areas. According to the Ministry of Internal Affairs of Ukraine, as of 10 am on June 6, 742 people have already been evacuated. The department also reported that about 80 settlements are in the potential flood zone, most of them are temporarily occupied by Russians.