Japan, EU to deepen economic security ties amid growing risks from China, Russia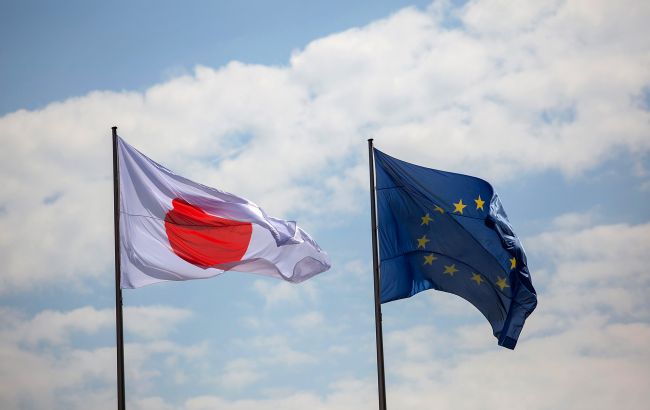 EU and Japan have agreed to deepen economic security cooperation (GettyImages)
The European Union and Japan have agreed to deepen economic security cooperation against increasing risks from China and Russia, as Kyodo reports.
This deepening will be achieved through strengthening supply chain resilience for semiconductors and other critical materials
"During their third high-level dialogue on economic issues such as trade and energy, Japanese and EU representatives also said they will take measures to counter China's so-called economic coercion, involving the use of economic means to achieve political goals and exert influence on other countries, Japan's trade ministry said," the media reports.
Japan was represented by Minister of Economy, Trade, and Industry Yasutoshi Nishimura and Minister of Foreign Affairs Yoshimasa Hayashi. Valdis Dombrovskis, Executive Vice President of the European Commission for An Economy that Works for People, was present from the EU side.
"The call to boost supply chain networks comes as Russia's ongoing war with Ukraine, which began in February 2022, continues to heighten economic and geopolitical uncertainty," the statement reads.
As Dombrovskis said during the meeting, the EU was able to partially separate its economy from Russia through sanctions to weaken Moscow's military potential.
The participants also confirmed the importance of protecting digital data during cross-border transfers in compliance with the highest cybersecurity standards.
Japan and the EU held an economic dialogue in October 2022. At that time, the main focus was on the importance of ensuring stable energy and food supplies, threatened by Russia's large-scale military aggression against Ukraine.
Previously, it was reported that Japan intends to allow the export of certain types of military equipment considering Russia's invasion of Ukraine.
EU-China trade
EU states increased economic pressure on China, introducing certain trade restrictions.
Recently, German Chancellor Olaf Scholz called on the EU to reduce its dependence on China, accusing the Beijing government of acting as an opponent and competitor rather than a partner.
Bloomberg reported that the EU and the US are discussing cooperation in addressing risks associated with sensitive technologies investments in countries such as China.
According to Politico, France is increasing pressure on the EU, demanding to counter China's advantages in some export sectors such as electric vehicles.