Is there nuclear weapon use threat - Ukrainian Defense Intel view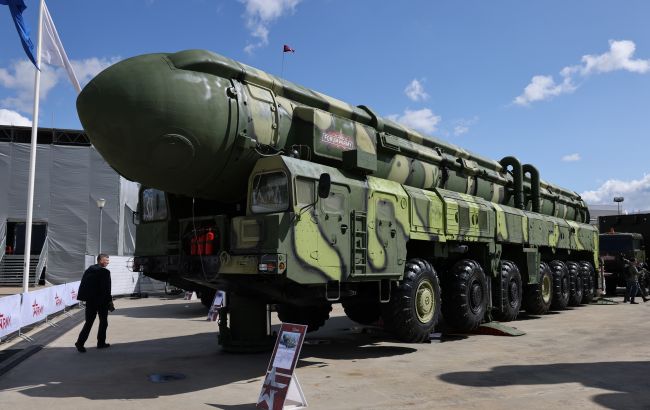 Ukrainian Defense Intel sees no evidence of increasing of tactical nuclear weapon use risk (Photo: Getty Images)
The nuclear threat from Russia hypothetically always exists. However, at the moment, we cannot speak of an increased risk of such weapons being used against Ukraine, said Andrii Yusov, a representative of the Defense Intelligence of Ukraine, in a comment to RBC-Ukraine.
He said that the so-called Russian Federation is a terrorist state that has repeatedly committed various acts of terrorism, war crimes, and specifically was engaged in nuclear blackmail.
"Putin's Russia is a terrorist state that possesses nuclear weapons - both strategic and tactical. And hypothetically, the threat in this direction always exists. Therefore, both Ukraine and our international partners are closely monitoring this issue. On the other hand, now, we cannot talk about a change in the situation and an increase in the risks of the possible use of tactical nuclear weapons by the so-called Russian Federation against Ukraine," said Yusov.
According to him, there are many explanations for this. In particular, a similar step would not significantly change anything for the occupiers on the battlefield. However, the use of nuclear weapons would lead to the collapse of Putin's regime and his ultimate defeat because the world's reaction would be simply outrageous.
"However, we will only be able to completely eliminate the threat of such aggression not only against Ukraine but also for the international community from the aggressive Russian Federation when the issue of nuclear disarmament in Russia is under international supervision and control. Only then will this issue not be on the global agenda at all," he explained.
Biden considers the threat of Putin's use of nuclear weapons "real"
Recently, US President Joe Biden said that the threat of dictator Vladimir Putin's use of tactical nuclear weapons is "real."
The President made this statement yesterday during a meeting with a group of donors in California.
"When I was out here about two years ago saying I worried about the Colorado River drying up, everybody looked at me like I was crazy. They looked at me like when I said I worry about Putin using tactical nuclear weapons. It's real," Biden said.
Putin decided to deploy nuclear weapons in Belarus
It is worth adding that in March, Putin announced the deployment of nuclear weapons on the territory of Belarus. Allegedly, he would do it at the request of the self-proclaimed President of Belarus, Alexander Lukashenko.
The Kremlin stated that the construction of a special storage facility for tactical nuclear weapons in Belarus would be completed on July 1, 2023. After that, an agreement was signed in Minsk on how Belarus would store Russian non-strategic nuclear weapons.
In June, Putin stated that this storage facility was supposedly "in the final stage of construction, and the weapons would be moved to Belarus on July 7-8."
Recently, the Kremlin leader claimed that the transfer of nuclear weapons had already begun, and the first batch was already on the territory of Belarus. However, the popular monitoring group Belarusian Hayun reports that there is no evidence of such movement.