Impressive scale: After Kakhovka HPP destruction 2000 historical artifacts found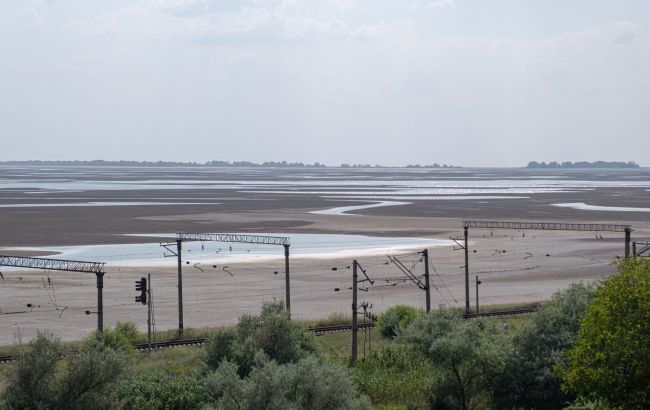 The bottom of the Kakhovka reservoir after the dam was blown up (Photo: Getty Images)
The bottom of the Kakhovka Reservoir revealed many secrets and historical artifacts after the Russians destroyed it. As of today, there is information about at least 2,000 archaeological finds near Khortytsia Island, according to Radio Liberty.
When the Kakhovka Hydroelectric Power Plant (HPP) was destroyed, a significant drop in water levels occurred near Khortytsia Island. National Reserve employees discovered over 2,000 archaeological artifacts in that area.
Mostly, these are fragments of ceramics, items made of flint and metal, says the acting director general of the Khortytsia reserve, Svitlana Okhrimenko.
Artifacts found near Khortytsia Island (photo: Yevgeniya Nazarova / Radio Liberty)
Moreover, she adds that the work is ongoing and will continue since the territory is extensive. In addition, the relief of the soil changes due to natural phenomena.
"Often, large objects are exposed where there was nothing yesterday. This is vividly seen when discovering new boats, especially dugout boats," Svitlana explains.
The items that have already been identified are dated from the seventh millennium BCE to our era, ending with the Cossack era. Artifacts found just one or two weeks ago can also be seen at a specially organized exhibition, such as a bronze dagger from the late Bronze Age.
Recently discovered late Bronze Age dagger (photo: Yevgeniya Nazarova / Radio Liberty)
Senior researcher at the Khortytsia reserve, Tetiana Shelemetyeva, notes that such findings are scarce because bronze was as valuable as gold at that time.
"A similar dagger was found in 2004 on Khortytsia Island, where we now have a new bridge. Bronze finds are very, very rare. Today, our collection in the reserve includes three daggers, two sickles, and decorations," she says.
Excavations near Khortytsia will continue as a large portion of the territory remains unexplored (photo: Yevgeniya Nazarova / Radio Liberty)
Previously, on the morning of June 6, the occupiers blew up the dam of the Kakhovka HPP. Water flooded most of the Kherson region's right and left Bank.
More information on whether it is necessary to rebuild the Kakhovka Reservoir, according to the academician of the National Academy of Sciences of Ukraine, Yakov Didukh - in material by RBC-Ukraine.