If Russia talks about 'dirty bomb', it can use it - Ukrainian Ministry of Defense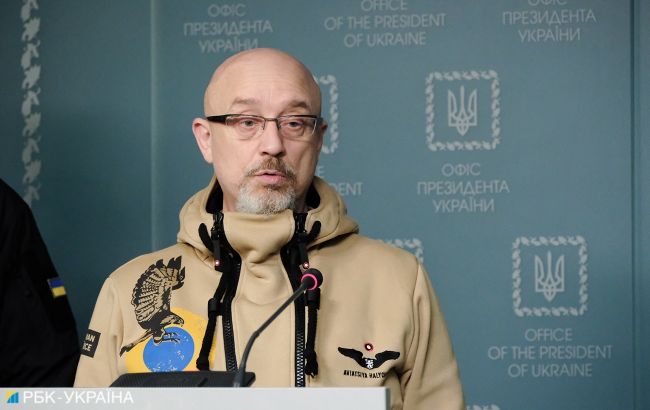 Minister of Defense of Ukraine Oleksii Reznikov (Photo: RBC-Ukraine)
"The accusations of the Russian Federation against others regarding violations of international humanitarian law, the creation of 'dirty bombs', and the use of prohibited methods and means of warfare are baseless," the statement said.
The Ministry of Defense reminded that similar statements were made by Russian authorities last autumn when Russian occupiers suffered defeats on the front near Kherson.
Purpose of such statements
The Ministry of Defense of Ukraine states that the Russian government wants to divert attention from the obvious defeats of the occupation forces on the front and create distrust among Ukraine's Western allies. The ministry also decided to remind about the crimes of the Russian Federation:
It was Russia that unjustifiably invaded Ukrainian territory.
In 2022, Russia seized the Chornobyl and Zaporizhzhia nuclear power plants, deployed weapons and ammunition there, and conducted shelling. The occupied Zaporizhzhia NPP is still being used by the Russians as a factor of blackmail.
"The Russian sabotage of the Kakhovka hydroelectric power plant led to an ecological and humanitarian catastrophe. Russia bears responsibility for shelling Ukrainian settlements, mass killings of civilians, torture, and executions of prisoners of war," the Ministry of Defense said.
It is noted that if Russia talks about the danger of war from someone, it is Russia itself that unleashes it. Also, if Russia talks about a "dirty bomb", there could be a real threat of its use by the Russians. The Ukrainian Ministry of Defense assured that it assesses all scenarios and related risks and takes measures to counter the Russian threat in collaboration with other agencies and military administrations.
Russia's statements about a "dirty bomb"
Recently, the head of Russia's Foreign Intelligence Service, Sergey Naryshkin, began spreading fakes that Ukraine is "working on a dirty bomb."
Fakes about a "dirty bomb" were spread by Russian Defense Minister Sergey Shoigu and other officials last autumn. They called their colleagues in France, Turkey, Britain, and the United States, trying to convince them that "Ukraine is developing a dirty bomb." However, no evidence was provided. Western countries did not believe these statements and accused Russia of propaganda.
Advisor to the President's Office, Mykhailo Podolyak, called Shoigu's words absurd and lies. President Volodymyr Zelenskyy described what Shoigu was doing at that time as a phone carousel and called on the international community to react as harshly as possible.