Hamas collected cryptocurrency donations: Iran appeared most generous sponsor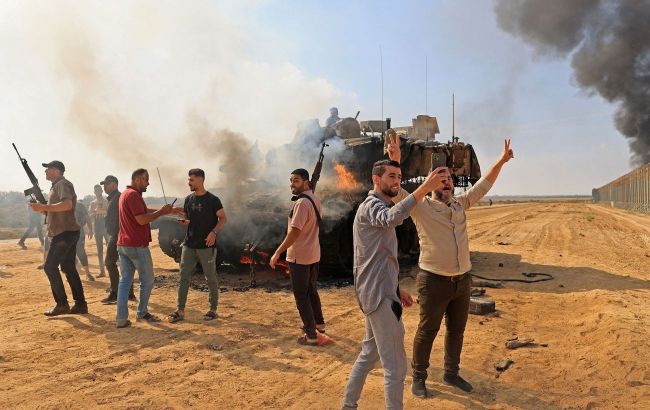 Hamas collected donations in cryptocurrency, and Iran was the most generous sponsor (Photo: Getty Images)
Iran is one of Hamas's most generous financial sponsors, providing militants with the necessary resources for terrorist acts. However, it has been revealed that terrorists also received financial support through cryptocurrency from online donors, according to CNN.
Before the terrorist attack on Israel on October 7, the U.S. Department of Justice was investigating the use of cryptocurrency by Hamas terrorists through individuals who laundered money.
Private analysts estimate that cryptocurrency wallets confiscated by Israel due to suspected ties with Hamas and other Palestinian militants collectively amount to tens of millions of dollars.
The use of digital currency by terrorists is one of the many ways Hamas attempts to raise funds while avoiding sanctions.
"There's not one financing method for Hamas or other terrorist organizations. They're opportunistic and adaptive. Efforts to stop them are a constant game of cat-and-mouse," explained former CIA analyst Yaya Fanusie.
Hamas and other terrorist groups have used Facebook and Twitter to share their cryptocurrency wallets and encourage others to donate publicly.
How much Hamas accumulated
The exact figure is currently impossible to determine. According to Dmitry Machikhin, the CEO of cryptocurrency analytics software BitOK, cryptocurrency addresses associated with Hamas, confiscated by Israeli authorities, received approximately $41 million from 2020 to 2023.
Additionally, $94 million allegedly was on account of the "Islamic Jihad," a combat partner of Hamas. However, it is currently unclear which part belongs to the terrorists.
Challenges in combating this
Tracking cryptocurrency linked to the "Al-Qassam Brigades" is complicated because militants rely on "disposable" crypto addresses generated for each donor separately. Terrorists also use illegal money exchanges that anonymously convert cryptocurrency into cash without records.
"Criminals are always going to look for the next best alternative to continue their activities," explained Elliptic researcher Arda Akartuna.
Generous Iran
According to the U.S. State Department data for 2021, Iran became the main donor to Hamas. The country annually provides up to $100 million to Palestinian terrorist groups, including Hamas and the "Islamic Jihad."
Hamas also raises funds in other Arab countries around the Persian Gulf and through its charitable organizations.
There is information that terrorists sometimes receive Iranian funds through financiers based in Turkey or Lebanon. For example, in 2019, a financial agent from Lebanon acted as a "mediator" between the Iranian Islamic Revolutionary Guard Corps and Hamas and cooperated with the Lebanese group Hezbollah to facilitate fund transfers.
"Iran has used various tactics to fund terrorist groups including Hamas, such as networks of shell companies, transactions masked by senior officials, and the use of precious metals to evade sanctions," the U.S. Department of the Treasury reported.
Hamas invasion of Israel
On October 7, Hamas militants attacked Israel from the Gaza Strip. The terrorists took hostages, killed hundreds of civilians, and seized control of some military facilities.
In response, Israel declared a "state of war" and initiated the counter-terrorism Operation Iron Swords. The army command emphasizes its intention to destroy Hamas.
More details of the attack - in the material by RBC-Ukraine.