Georgia's leading party launches impeachment proceedings the president due to visit to Europe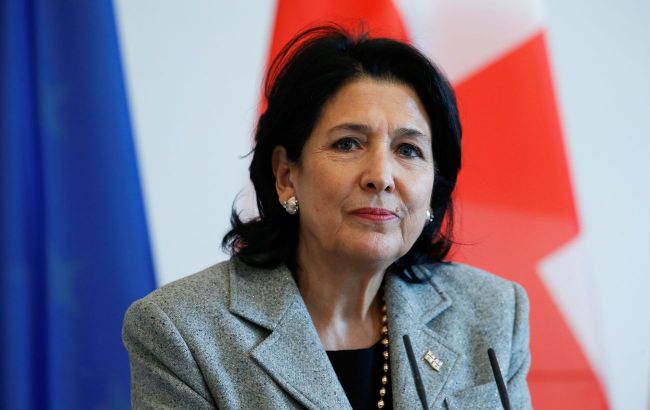 Georgia's President Salome Zourabichvili (Photo: Getty Images)
The leading party of Georgia, "Georgian Dream," has initiated the impeachment procedure against President Salome Zourabichvili due to her unauthorized visits to Europe, announced the party's leader, Irakli Kobakhidze.
According to him, they will initiate the impeachment procedure against Zourabichvili, even though it is clear that the ruling party lacks the necessary 100 votes for her resignation.
"To complete impeachment, the support of 100 deputies is required, so it has no prospects without the votes of the radical opposition. Nevertheless, at the party's political council meeting, we decided to initiate the impeachment procedure against the President of Georgia," Kobakhidze said.
The leader of "Georgian Dream" explained this move as a "responsibility to the constitution," stating that the party cannot ignore "flagrant violations undermining the rule of law."
He also claims that the president's visits are "counterproductive" and may hinder Georgia's efforts to gain candidate status for EU membership.
Background
President of Georgia Salome Zourabichvili planned to visit Ukraine and several European countries from August 22 to 24. However, the Georgian government prohibited her visits.
Zourabichvili was also banned from making official visits to Germany, Switzerland, Poland, Belgium, Denmark, the UAE, Bulgaria, the Czech Republic, and Israel. The president was supposed to visit these countries in the autumn and winter of 2023.
Under Georgian law, the country's president needs to obtain the government's approval to conduct official foreign visits.
Despite the government's decision, the President of Georgia visited Germany on August 31, where she met with President Frank-Walter Steinmeier. She also met with European leaders to discuss Georgia's candidacy for EU membership.
The ruling party, "Georgian Dream," accuses Zourabichvili of violating the Constitution.