Focus on air defense. What Zelenskyy is negotiating in Spain: Details of visit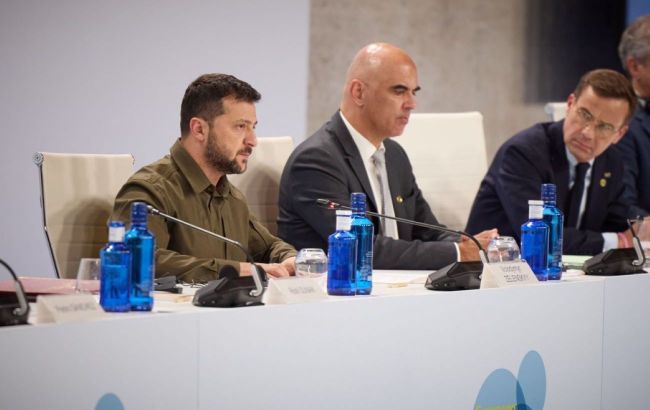 Ukrainian President Volodymyr Zelenskyy (Photo: president.gov.ua)
Ukrainian President Volodymyr Zelenskyy is currently on a visit to Granada, Spain, on October 5. He participated in the summit of the European Political Community and engaged in bilateral meetings.
RBC-Ukraine is closely following the President's trip and highlighting critical statements.
During the material preparation, press releases from the Office of the President and statements from Volodymyr Zelenskyy at the summit were used.
In the morning, Zelenskyy would participate in the summit of the European Political Community. In his social media posts, he mentioned that Ukraine, alongside other European countries, would discuss security and stability. RBC-Ukraine confirmed the President's arrival in Granada.
The summit includes work in general formats and bilateral meetings on its sidelines.
"Critical for us, especially before winter, is the strengthening of air defense, and there is already a foundation for new agreements with partners. We are preparing to confirm and implement them," announced Zelenskyy, adding that he brought proposals for enhancing European security.
Participation in the third summit of the European Political Community began with a press briefing.
Main challenges: Unity in Europe and Ukraine's defense
According to the president, the primary challenge is preserving unity in Europe.
"And I am talking not only about EU countries but about Europe. I believe this will be the most significant challenge because Russia will attack through information, disinformation, and fake news," stated Zelenskyy.
He identified the second challenge as a defensive shield for Ukraine during the winter.
"Because in winter, we will face numerous attacks with various types of Russian missiles, Iranian drones," he added.
Ukraine has no time to worry about the U.S..Biden promised 100% support
The Ukrainian President was asked if he is concerned about recent political developments in the United States, where after the resignation of Kevin McCarthy, the work of the House of Representatives may be blocked for a long time, without approval of which Ukraine is unlikely to receive additional billions in aid.
"I think in Ukraine, we stopped worrying from the first day of the full-scale war. It's too late for us to worry now. I think we need to work."
Zelenskyy further mentioned that during his visit to the United States, his American counterpart, Joe Biden, assured him of continued support from the White House and parties in Congress.
"The United States is going through a complex election period; various voices are heard, some very strange. We will talk about it today," he emphasized.
Later, he will address this issue during his speech to the summit participants.
Spain will provide a defense package with air defense systems and artillery
On the summit's sidelines, Zelenskyy met with the acting Prime Minister of Spain, Pedro Sanchez. The parties discussed a new military package, including air defense, artillery, and anti-drone systems.
Photo: Pedro Sanchez and Volodymyr Zelenskyy discuss air defense supplies (president.gov.ua)
Additionally, Zelenskyy expressed hope for initiating negotiations on Ukraine's accession to the EU during Spain's presidency, i.e., by the end of 2023. In response, Sanchez assured that Madrid supports Ukraine's entry into the European Union.
"We share a common goal of ensuring the security and stability of our shared European home," he noted.
Sanchez also announced his intention to assist in protecting critical infrastructure and reiterated the offer to train Ukrainian military personnel, along with the promise to provide equipment for demining. It is expected that Spain will also aid in the supply of energy equipment ahead of potential attacks.
Ukrainian Minister of Foreign Affairs Dmytro Kuleba confirmed that following the visit to Spain, the Ukrainian side will receive more air defense systems. According to him, Zelenskyy has specific agreements, but they cannot be disclosed now.
Italy is also preparing a package for Ukraine
Zelenskyy also met with Italian Prime Minister Giorgia Meloni and briefed her on the situation on the front and the Ukrainian offensive operation.
"Any weakening of military assistance to Ukraine will contribute to the strengthening of the occupiers and their attempts to capture new Ukrainian territories," he emphasized.
In preparing the next defense package from Italy, the parties discussed the possibilities of strengthening Ukrainian air defense systems to protect civilians and grain infrastructure. Most likely, the discussion focused on the Odesa region.
Photo: Giorgia Meloni and Volodymyr Zelenskyy (president.gov.ua)
A separate agreement with Italy on security guarantees for Ukraine was discussed, along with how Italy's future presidency in the G7 could assist the Ukrainian side.
Defense Minister Guido Crosetto confirmed that Italy would provide military support to Ukraine as needed. However, local media note discrepancies regarding the upcoming aid package. It might include anti-aircraft systems, ammunition, drone countermeasures, and frequency jammers.
Speech at the summit: key statements
Europe must be united to avoid becoming another Kharkiv
Zelenskyy told at the summit, describing Kharkiv, with a population of 1.2 million people located 40 km from Russia. According to him, the flight time of S-300 missiles is less than three minutes, and such missiles have destroyed thousands of houses, schools, churches, and other objects.
Despite this, Kharkiv is still functioning, and all key institutions are operational. Children are forced to learn remotely, but the city has found one solution – over a thousand students attend classes at the metro station.
"And the metro for a city of a million is the only safe option to gather children for school education. This is what it means to be neighbors with Russia... Dear leaders! Do your cities have enough metro stations where you could organize protected school education for children if the threats from Russia materialize? And it is preparing to realize them," emphasized the president.
War freezing will lead to a critical moment in 2028
Zelenskyy drew attention to the fact that Russia is currently considering various scenarios for the coming years. The most dangerous one is a pause in the war, freezing the situation, which will only postpone a new critical moment.
"If we allow Russia to adapt now, by 2028, the Kremlin will be able to restore the military potential we have damaged, and Russia will have enough strength to attack the countries that are in the focus of Russian expansion. In addition to Ukraine, these are the Baltic countries and those with Russian contingents. This is clear information from our intelligence," he said.
According to him, a support format for affected nations is needed to prevent the spread of ruin. Ukraine, Moldova, Georgia, and Belarus will need support to prevent Russia from having a chance to break their sovereignty.
"The aggressor is most reliably neutralized by defeat. Defeat in war. Right now, in Ukraine, we can inflict a fundamental defeat on Russian aggression," he added.
America is experiencing a political tornado. But Europe should not lower its sails
Volodymyr Zelenskyy also touched upon the political situation in the United States. He believes America will weather the political tornado thanks to a strong democracy.
"I was recently in Washington. I talked to President Biden. I spoke with congressmen - both parties, both houses. They support the defense of freedom and understand that Russia and other enemies of our way of life want to take advantage of the consequences of political storms," he noted.
He also reminded that America has assisted Europe in the past. Now it is "important for Europe not to lower its sails from the wind, trying to weather the storm together with the United States, defending common values and the space of freedom."
First meeting with the Prime Minister of Armenia
On the sidelines of the summit in Granada, Zelenskyy held the first meeting with the Armenian Prime Minister Nikol Pashinyan.
"We discussed the security situation in the South Caucasus. Ukraine is interested in the region's stability and friendly relations with its countries. We also discussed our bilateral cooperation and interregional economic projects," he said.
Photo: Volodymyr Zelenskyy met with Nikol Pashinyan for the first time (president.gov.ua)
The president published a photo with Pashinyan, and there are no other details.
There will be more good news from France
During the meeting with the President of France, Emmanuel Macron, they discussed strengthening Ukraine's air defense, the security of the Odesa region, and the Black Sea.
"All our previous agreements... are being implemented. There will be even more good news for our soldiers," emphasized Zelenskyy.