First Viking was a woman? Discovery on runic stone rewrites history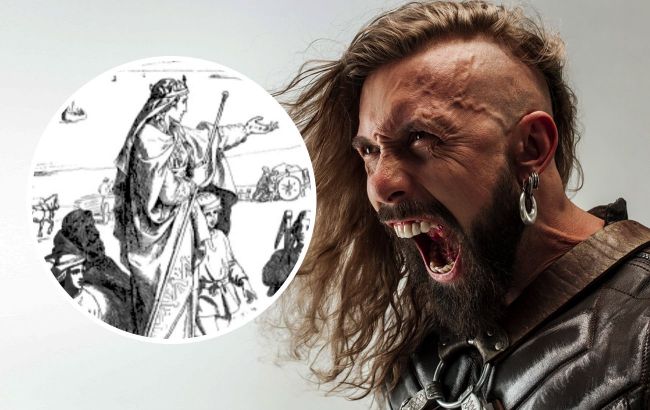 The first Viking and queen were a woman (Collage by RBC-Ukraine)
For many years, the most famous first Viking was believed to be the leader Harald Bluetooth, who ruled Denmark from 958 to 985. But it turns out that there was another renowned Viking monarch before him, and it was a woman.
What scientists have managed to find out is reported by RBC-Ukraine, based on data from a new study published on the website of the University of Cambridge.
In the 10th century AD, Denmark was ruled by the renowned Viking Harald Bluetooth. His royal residence was located in Jelling. In the place of his residence, two burial mounds have been preserved, where all the objects and images traditionally associated with Harald's parents, Gorm and Thyra, can be found. Very little is known about their lives.
However, researchers have noted that Thyra appears on runic stones in both Jelling and some other stones in the same region. Typically, if all the images are related to one person, it is a sign that the individual was celebrated, and their memory was intended to be preserved.
Thyra is commemorated on more runic stones than any other Viking in Denmark during that time. Even more than her son, the famous Viking Harald Bluetooth. Her husband, Gorm, is depicted on only one stone. Moreover, Thyra's rule was credited with the expansion of the Danewerk fortifications, which successfully resisted German invasions.
However, Thyra's life remains a mystery overall. Her family, origins and the nature of her royal rule are all unknown. Historians previously paid little attention to her life, as they primarily regarded her as the mother of Denmark's first known Viking.
"The mentioning of Thyra on no fewer than four runestones is unparalleled in Viking-Age Denmark. The combination of the present analyses and the geographical distribution of the runestones indicates that Thyra was one of the key figures—or even the key figure—for the assembling of the Danish realm, in which she herself may have played an active part," as stated in the research materials.
A runic stone dedicated to Thyra (photo by Roberto Fortuna, National Museum of Denmark)
Before this, on one of the groups of memorial stones found in Jelling, the royal residence of monarchs and Vikings, researchers discovered an intriguing inscription where Thyra is referred to as "the strength/salvation of Denmark." On another small stone, she is called "the adornment of Denmark."
On another group of stones in Ravnunge-Tue, located near Jelling, Thyra is mentioned with a word that can mean "lady" or "queen." Researchers believe that both stones were carved at the same time, by a well-known local carver.
According to Danish traditions, runic stones were colored brightly and placed in central locations, such as burial mounds, crossroads, and burial sites. In those times, only one stone was erected in honor of an individual, and most often, that individual was a man.
To date, researchers have found no fewer than ten runic stones dedicated to women, and four of them were dedicated to Thyra.
"If we accept that runestones were granite manifestations of status, lineage and power, we may suggest that Thyra was indeed of royal, Jutlandic descent," the authors write, referring to Jutland, an island in northwestern Europe that includes Denmark.
Thyra, the wife of Gorm, is also one of the few women mentioned in legends and written sources. She was described as a wise and strong queen. In some writings, she is called the daughter of an English king, while in others, she is referred to as the daughter of the semi-legendary king Clac-Harald.
In the near future, researchers plan to re-examine the burial site located next to Thyra's runic stone in Jelling. It was initially believed to hold Gorm's remains, but in reality, it may indicate the final resting place of Denmark's first queen.
In recent years, archaeologists have already found several pieces of evidence that Viking women fought alongside men. It is not unlikely that the first Viking was a woman.