Fires in three regions and wounded woman: Сonsequences of night drone attack on Ukraine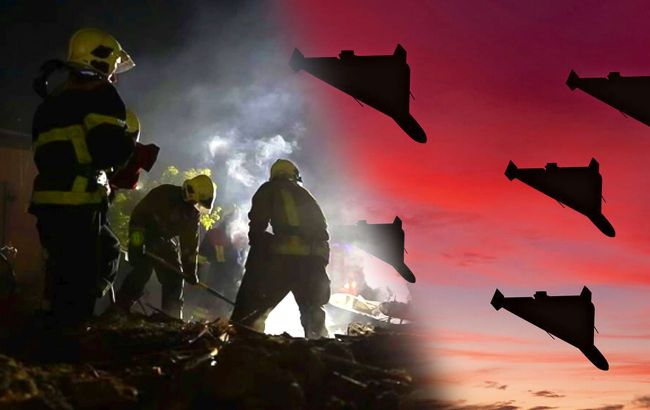 Fires broke out in several regions as a result of the downing of enemy UAVs (RBC-Ukraine collage)
During the repulsion of a nighttime Russian drone attack on Ukraine and the downing of enemy targets in the Mykolaiv, Cherkasy and Odesa regions, the falling debris caused fires and destruction, injuring at least one person.
The information was sourced from Telegram publications by Vitalii Kim, the head of the Mykolaiv Regional Military Administration (RMA), Ihor Taburets, the head of the Cherkasy RMA, Oleh Kiper, the head of the Odesa RMA, as well as statements from the Southern Ukraine Defense Forces and the Air Force Command of the Armed Forces of Ukraine.
The attack on Ukraine and the number of targets downed
According to the Ukrainian Air Force, Ukrainian air defense forces successfully neutralized 28 kamikaze drones during the night aerial attack on October 12. A total of 33 airborne targets were launched onto Ukrainian territory.
Where were drones intercepted
In the region under the responsibility of the Southern Ukraine Defense Forces, a total of 14 Shahed-131/136 UAVs were destroyed by air defense forces. This includes 4 in the Mykolaiv region and 10 in the Odesa region. The head of the Cherkasy RMA also confirmed the interception of an airborne target in their region.
Odesa region
In the southern part of the Odesa region, the impact of the attack resulted in damage to warehouse buildings in the port area, as well as private residences of civilian residents. The military reported that fires that occurred were swiftly extinguished by firefighters. Preliminary reports indicate one civilian sustained injuries, a woman born in 1935, who suffered thermal burns.
Oleh Kiper, the head of the Odesa RMA, further specified that the Shahed kamikaze drones struck the Izmail district, leading to damage to port infrastructure and residential buildings. The fires at the scene have already been contained.
Mykolaiv region
The head of the Mykolaiv RMA reported that four Shahed-136/131 attack UAVs were intercepted over the region. At approximately 01:40, in the Shevchenkivska community, a fire broke out in dry grass due to the falling debris of an enemy UAV shot down by air defense forces. The fire was promptly extinguished, and there were no casualties.
Additionally, on October 11, a Russian reconnaissance UAV Supercam was destroyed in the Mykolaiv region.
Cherkasy region
The Cherkasy region was once again targeted by the enemy during the night. Ukrainian defenders successfully neutralized an enemy attack drone over the region, while another Shahed targeted an open area. Fires resulting from the ignition of dry vegetation were extinguished.
Pecularities of the attack
This Russian nighttime drone attack on southern Ukraine was once again directed at the port infrastructure of the Danube Region, as reported by the military. In an attempt to evade air defense systems, the kamikaze drones approached from various directions, utilizing complex trajectories and taking advantage of the landscape's features, according to the Southern Ukraine Defense Forces' statement.